There can be little doubt that we are all living in an age of "outrage" and "hyper-outrage." Everyone, it would appear is offended by most anything. This is no more obvious than in the world of sports where we must all keep to a fine line between "truth" and "what offends." Sometimes the line gets so narrow so as to not be a line at all; it is just a tiny speck that can only be seen with an electron microscope.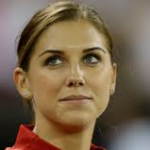 First, I will start with my favorite topic these days: FIFA. The association has done its best to riddle a fantastic sport with corruption, pay-offs, unequal treatment of women and now, what appears to be jail sentences for some of its highest officials. I could hold a week long seminar at FIFA headquarters and barely scratch the surface of some of their numbskull shenanigans.
However, as misguided as some of their actions and statements, every so often it is important to get behind a story and to understand where some of those statements originate. I understand that in these days of outrage that some of the outrage may also come my way. These kinds of topics are not easy, but they must be discussed.
The subject is Alex Morgan, but first –
When the artificial turf debate cropped up in regard to the Women's World Cup (led by Abby Wambach), we were squarely in her corner. Several players complained as to why the men got to play on real turf, but the women were relegated to playing on the artificial turf. We completely agree!
We have played soccer (albeit several steps down from Abby's level), but we can still understand the two surfaces are not only different in terms of the game but sliding tackles on plastic grass is a lot like sliding across gritty sandpaper. It's a lousy surface for world cup play especially in warm weather. So why the gender inequality FIFA?
Now let's fast-forward to another gender "issue:"
The following is a quote from the Associated Press on June 30, 2015:
"Critics took aim at FIFA on social media Tuesday after FIFA.com referenced American forward Alex Morgan's looks in an article posted in advance of the United States' match against Germany in the semifinals of the Women's World Cup.
The second sentence of the piece referred to Morgan as ''a talented goal scorer with a style that is very easy on the eye and good looks to match, she is nothing short of a media phenomenon.' One Twitter user asked if FIFA would be commenting on Ronaldo's looks on the day of a World Cup semifinal."
Well, FIFA.com does what FIFA does best; placing their ethical big feet in their mouth. It was a rather dumb thing for an international association to say. But we are hardly outraged, and the social media critics might consider learning how to use search engines before expressing their "anger."
For Alex Morgan is not a stranger to capitalizing on her appearance. Unless she has a double who goes by the same name, her semi-clothed and glamor-shot likenesses have appeared throughout the media, including the Sports Illustrated Swimsuit Issue. Such a collection of images never happens by accident. These were posed modeling shots, not taken through a peep-hole by a freak or at a private party. She has already signed several lucrative advertising endorsements and there is little doubt that she will capitalize on her fame and appearance in the years to come.
Before we go any further (to answer another point), Ronaldo has been capitalizing on his looks for years along with many, many other players in almost any sport you can imagine, from Beckham to Serena to Tiger to Tom Brady. It is the way of the world.
That leads us to some points.
First, outrage is an "explosive" word that has been co-opted by the social media and the internet. Why? It is a short word that fits well into headlines. Outrage is a word that should be reserved for the way we feel about athletes abusing women or any violence toward family members or children or animals. Outrage is a word for when an athlete is engaged in bullying or for the officials at FIFA who were on the take. Let us all get away from being "outraged" at anything we dislike and just say that something upsets us.
Second, I am sorry that some "critics" are upset that Alex Morgan's attractive appearance was referenced, but I doubt that Alex Morgan was very much upset about it at all. Was David Beckham? How about Shannon Sharpe or Michael Jordan; going back, how about Mary Lou Retton, Kristi Yamaguchi or Dorothy Hamill? All of them have used their looks to promote their commercial ventures, acting and modeling careers.
To the "critics," you might want to understand that sports at Alex Morgan's level is also a business. She is a great player but she knows, as does Abby, Hope and the rest of the team that you can only play a sport for so long. Will she be back on the team? Who knows; but we will see her again and I hope she is successful at whatever she tries.
Alex Morgan has does nothing unethical except to promote herself. She has a whole other team of people around her who see possibilities after she leaves the lousy plastic FIFA turf surface for another life. She knows what she is doing.
FIFA should learn to shut up most of the time but in this particular instance, all they were doing was responding to a team of publicists, press releases and photography that is positioning Alex Morgan for her future.