FSU freshman QB De'Andre Johnson made a lousy decision and it could potentially cost him his collegiate career. All of this is alleged, of course, but a woman apparently cut in front of Johnson in a bar and he said something to her. She turned around and put up her arms. He grabbed her arms and he punched her in the face.
There we go.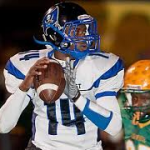 Less than a year after FSU said good-bye to Jameis Winston and his ongoing circus (a circus that has followed him into the pros), we don't think that Coach Jimbo Fisher was in the mood to also play the same game with Johnson.
Johnson has not been charged with a crime by the Tallahassee Police. Then again, if Attila the Hun were playing for FSU, I don't think he'd be charged with any crimes either. What we do know is that the day after the incident, the school indefinitely suspended the young man for a violation of athletic department policy.
Jimbo Fisher did the right thing. He also had no choice – and it's unfortunate.
De'Andre Johnson has an impressive background. As a Florida prep school standout, he was ranked in the top 10 of all QBs in the nation and finished his school career with a 12-1 record. He played in the FSU spring game. Who knows where all of this might have led?
For now, it has led him nowhere.
Talent just isn't enough
Times have changed. What may have been "acceptable" in some circles decades ago has given way to a society that has grown increasingly intolerant of violence, bullying and abuse.
What athletes do off the field matters and the PR machinery that used to be able to keep the media and public opinion at bay are having an increasingly more difficult time in spinning and evading poor choices. Adding to the mix is the fact that there is virtually no privacy any longer. If a football player is dumb enough to punch a woman in the face in a bar, chances are that someone or something has recorded that image.
Talent is no longer enough – and it should never be enough especially when an athlete, coach or even an entire team leaves the field and goes out into the real world.
At issue for us, for Sports Ethics LLC, is if a career can be saved, or at least helped by ethical training. Over the past 20 years, working with people in all walks of life and levels of responsibility, we can offer an unqualified "yes."
If this young man made a stupid, angry and violent decision to punch a woman in the face, could sports ethics have helped him? Yes, it could have done so. It could have at least put him on the road to maturity and to making good decisions for himself. If De'Andre Johnson imagined himself following other FSU QB's into professional football, we would have impressed on him the very small window he has to make of an opportunity and to pursue a career.
We understand that there are no guarantees in life. The athlete, coach or even association executive must be receptive to listening and understanding. We cannot reach everyone but overall we can help.
Yes, De'Andre Johnson is young, and filled with ego and a sense of invincibility but what we teach might have reached him for a few seconds that evening. That's all it takes; a second or two to consider that punching a woman in a bar is a real bad choice, and to understand where the consequences of that action would lead.
A second or two can be a lot of time to an old man or woman who looks back to a dumb choice made many years before, when legs were young and opportunities seemed limitless.
Contact:
Chuck Gallagher: 1+ (828) 244 – 1400
www.SportsEthics.com