In the Ohio State bye week, starting QB J.T. Barrett not only managed to get himself a citation for operating a vehicle while under the influence, but he recklessly tried to escape the check-point by backing his way out of it. He got caught. He is also underage. If the law wanted to do so, whoever gave him booze could also pay a penalty.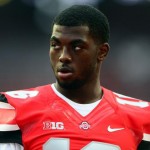 Buckeyes coach Urban Meyer suspended Barrett for one game and Barret is forfeiting his 2016 summer term scholarship. The loss of a summer scholarship may or may not affect him as he has to pay his own way.
The school has no suspension policy in terms of first-time DUI offenders, but for at least one week, he has lost his starting role to QB Cardale Jones. When a program is at a level as high as Ohio State, losing the starting role for even one game is damn serious stuff. If Jones has a kick-butt day, Barrett could find himself sitting for more games than just the next.
According to Urban Meyer speaking to ESPN:
"I tried to collect as many facts as I could about what actually happened," Meyer said. "I meet with the player; I meet with [athletic director] Gene Smith. Obviously this was a very serious one. I came to the conclusion of one game, and he's also losing a scholarship, forfeiting his scholarship for a term…When a kid has an issue like that, there's some type of punitive damage."
For his part, and to his credit, Barrett took it upon himself to apologize to the veteran players and he has also addressed the entire team to make an apology. He still has to face a judge and pay a fine.
Pay the price and don't get past it
J.T. Barrett is paying the price for making a bad decision. He is suffering the consequences. Should Ohio State somehow lose to Minnesota (about a .500 team at this point), you'd better believe all the eyes will be on his "adventure."
I am not thrilled with anyone who drives drunk. I don't consider it a minor infraction but more a matter of immaturity and self-centeredness no matter the driver's age. Driving drunk is not about the idiot driving, but about the innocent people he or she could kill.
I have never liked the mindset of "let's put this incident behind us." I have seen and heard it applied to any number of terrible behaviors. I prefer to tell those who come to me for sports ethics counseling to not put it behind them, but to understand the consequences of their actions and to build on it to become better people.
That said, I am not prepared to beat-up J.T. Barrett for the rest of his career. He made a mistake, he is paying for it, and I have to trust that Coach Meyer knows the heart of this young man a lot better than the rest of us.
Of course, if Barrett commits the infraction again, I will have nothing good to say on the topic. It will take care of itself, as bad decisions always do. Football teams are now well aware that a kid who is a drunk in college will carry his antics into the NFL.
I consistently recommend both individualized and group ethics training to athletes in any sport and especially in any D-1 program. The "price" to pay is a fraction of what bad choices can do to a program and to the life of a gifted athlete.
(Chuck Gallagher and Bruce Wolk)
For more information on Sports Ethics:
Chuck Gallagher, President & Co-Founder: (828) 244-1400
www.SportsEthics.com