In less than 25 years, our society has witnessed incredible change. Who would have imagined in 1990 a women's professional basketball league? Maybe just a few of us. Who would have imagined a legal, same-sex marriage between two women playing in that league? I would venture to say, "no one."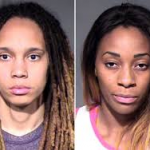 Attitudes and societal values have radically shifted; many of us would agree that the changes have been positive and necessary. The fact that two women met, fell in love and married is not the domain of Sports Ethics – and it really doesn't matter. The fact that two athletes were involved in a violent, physical, domestic violence case matters a great deal.
"With consideration of all the facts and circumstances of this matter, we are suspending Brittney Griner and Glory Johnson each without pay for a period of seven regular-season games. Brittney and Glory's conduct is detrimental to the best interests of the WNBA and violates applicable law." – Laurel J. Richie, WNBA President
The physical confrontation took place on April 22, 2015 and involved hitting, biting, pushing, wrestling, throwing objects and resulted in one of the women (Glory Johnson) receiving cuts and a concussion.
The couple married a week later.
It is the only element in this case that is making me scratch my head. It is none of my business of course, but they are not exactly off to a great start as a married couple. I can only imagine what a trained marriage counselor might have to say about this.
The Plea Deal
Brittney Griner struck a plea deal for disorderly conduct. She must undergo 26 weeks of therapy for domestic violence. There has been no verdict that has come down on Glory Johnson.
The WNBA does not have that long of a season; 34 games to be exact. A seven game suspension without pay represents a pretty sizable chunk of the season.
It is no secret that the WNBA has been hanging on and hanging around for many years. They rarely pack the stands. It remains in business partly due to the backing of very wealthy owners.
The last thing the league needs is a case like this. This is anti-role model behavior; this is the WNBA equivalent of the Ray Rice scandal. This is exactly what young women should not aspire to, on any level.
The WNBA had no choice but to suspend the players for the first seven games of the upcoming season.
I do not like the shame game (because it is a game) nor do I like the expression: "Let's put all this behind us." It is way too early to shove an incident aside and it is way too easy for someone to express "deep, deep regret" and all that.
I don't know Brittney Griner's heart. However, I am certain of one important point: Every negative choice has a negative consequence. I am sure she understands that; I hope she fully learns to accept that and I wish her well on that journey.
No matter the shifting patterns of society, whether the women in question are gay or straight, professional or amateur, WNBA players or in their third year at the Harvard Medical School, there was a choice made and it led to negative consequences. There is nothing new under the sun here. It falls on us all to react in a rational manner, and I am quite proud of the WNBA for taking a tough stance.
I teach and consult on the topic of sports ethics. I believe the same principles will be true 10 years from now as they were 10 or even 50 years ago. The "actors" on the sports stage may have changed, but the consequences remain the same. We will wait and see what the full consequences of this case might have in store for both women and the league that signs their paychecks.