We need to start this Sports Ethics blog with a definition:
"Voyeurism is the sexual interest in or practice of spying on people engaged in intimate behaviors, such as undressing, sexual activity, or other actions usually considered to be of a private nature."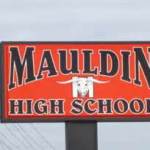 From the Greenville News in South Carolina, writer Anna Lee penned an article (November 12, 2014) entitled: "Mauldin football players suspended, charged with voyeurism."
According to the article:
"Two Mauldin High School football players were arrested after authorities said an inappropriate photo was shared on social media…the students were charged with aggravated voyeurism, a felony…The victim in the photo is male, and the photo was taken without his knowledge in what he thought was a private setting."
The picture, most probably taken in a locker room, was uploaded onto social media and apparently, another student saved the photo and texted it to other students. The student whose picture was taken never granted permission. When the victim saw his own photo on the social media he went to the authorities. The two football players were booked into a detention center and have been subsequently released. The players have been charged with aggravated voyeurism, which is a felony.
This isn't innocent fun
The students, born and raised in the digital age, are possibly not aware that even the social media poses risks and consequences. You cannot take a nude image of someone and post it on the internet without their permission. It is embarrassing, unethical and illegal.
However, if the students who are alleged to have taken and then posted the picture are not taught the consequences of their actions, chances are they are clueless. This sets up an interesting ethical debate – and we'll get to that in a minute.
To those of you who feel that what took place was innocent fun, imagine if these same two students had drilled a hole through the wall of the women's locker room or a women's bathroom and posted photos of your daughter, niece or even your wife? Would you feel the same way? Would you laugh at the joke?
Do you remember the case of Erin Andrews and the peephole incident? She was hardly amused. How about Richie Incognito and Jonathan Martin? It was a case of locker room bullying and racism and it cost Incognito his career.
There are certain social boundaries that have been established by our society. That is why, even in health clubs for adults, there are rules and/or signage that prohibit the use of cameras. Voyeurism will lead to jail time.
Choices and consequences of the social media
Why the images of this student were taken isn't really the main issue. If they were taken without his permission, it is a not too subtle form of bullying. Someone was out to embarrass him.
However, the larger part of this issue is the improper use of the social media. I teach athletes programs that talk of the consequences of bad posts, bad tweets, inappropriate YouTube videos and all forms of cyber-bullying.
The consequences of social media misuse range from embarrassment to a loss of job to prison time and heavy fines. There are consequences to this kind of behavior but again, if student athletes are not taught that their poor choices can lead to consequences, their coaches, supervisors, directors and even parents all share in the blame.
While cyber-bullying once (tragically) led students to suicide, the laws and the social structure that now protect the victims are nothing to be toyed around with; prosecution against bullies has gotten very tough. Bullies lose in court, and even idiots who pretend to be bullies will lose.
The two students are now suspended and off the team. The consequences are just starting. Coaches, teach your athletes well.