Those of us who love sports as fans, often tend to live our lives through the teams and the players we support. Is that a bad thing? I don't think so…providing. I'll get to the "providing" part in a minute.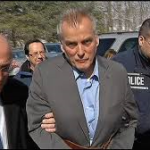 If we're passionate about our teams, we look forward to all aspects of our involvement with the team; from the draft to the merchandise to (often) the sportscasters. The sportscasters are close to the action. They share our ups and downs; they have the access we lack and often, they can put their comments and opinions together in a way that we can't always express.
There is just one problem. We often want to view those closest to our teams as being extensions of ourselves. They are not. I am quite sure that most people in the sports media are by and large decent people, but that doesn't mean they are perfect and without faults and flaws. This is where the "Providing" part enters the scene.
Enter a guy named Don Tollefson; a Philadelphia icon.
In an article for Philadelphia Inquirer (Ben Finley, January 22, 2015) entitled: "Tollefson guilty on all counts," we hear the story of a former sportscaster who managed to steal $350,000 in phony travel packages from people who were former fans. The sportscaster, believing himself to be slick enough to talk his way out of his guilt by being his own lawyer, got slammed by the court.
Said the article:
"The verdicts on charges of money laundering and theft mean that Tollefson, 62 – who turned down a plea deal that would have meant just months in prison – could instead spend years there for fleecing people who thought they were buying his sports and travel packages…
The former anchor for Fox29 and 6ABC sold bogus travel packages to sporting events in the name of his charity. His victims, whom he duped out of about $340,000, included about 200 sports fans who admired him, charitable organizations that trusted him, and a slain police officer's family."
Tollefson was not a poverty stricken, down on his luck man. According to the article, when he was let go from his last TV gig in 2008, he cashed out with more than $700,000 from his pension fund and other settlements.
By his own admission, Tollefson had an addiction problem and he managed to waste away all of his money. The idea hit him to form a charity and sell phony travel packages to support the family of a slain police officer. Neither the buyers of the travel packages nor the police officer's family ever received one cent in services or donations. Tollefson pulled a double scam.
The opportunity to steal
Don Tollefson saw an opportunity and he used his platform to defraud good people who were just trying to do the right thing. There were no ethical checks, no due diligence, no measured decision making. Ah, but there was a celebrity who had been the sports voice behind the microphone. For many people, that was good enough.
Don Tollefson saw the opportunity and he must have noticed, even in his alcohol and drug dependent state that diehard fans had trusted him. He was widely known in the community and by everyone's admission, he was a man who did good things from time to time. However, the former sports anchor had a choice to make and he made the wrong decision.
He is going to jail, hundreds of thousands of dollars are lost and in the process, hundreds of fans are disillusioned. As to his charity and the fraud, it will dissolve in the light of truth. Sometimes, we must take our "fan glasses" off, and make decisions based on the ethical reality of the situation alone.