At the moment I am writing this blog, the Tampa Bay Buccaneers of the NFC South, is "boasting" a completely unremarkable 1-5 record and it doesn't look like it's going to get any easier for them.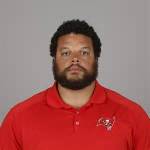 Coach Lovie Smith has been quoted as saying that the team is slowly showing signs of improvement, but I would not count on them being a Super Bowl contender let alone the playoffs. So it wouldn't shock me if the nerves were a little raw around the front office. Lovie Smith is a proven coach – and a good one, but I would place odds that about this early point in the season, everyone on his staff is under the magnifying glass and Isaiah Harris should have known that.
Harris was the director of player development for the "Bucs," and he was hand-picked by Coach Smith to come over to Tampa Bay with him from Smith's staff in Chicago.
Last Thursday, Harris was arrested for driving under the influence. Yesterday he was fired. According to a statement released by the Buccaneers general manager:
"Every member of the Tampa Bay Buccaneers is held to a high standard. This type of incident, particularly for someone whose primary responsibilities are to mentor and develop our players off the field, cannot be tolerated. Due to the nature of his position and the expectations placed on our staff, we made the organizational decision to part ways with Isaiah."
Times are changing
Was this an isolated incident or were there other behaviors that were leading up to this? This we don't know, and in a sense it is none of my business. I also wonder if that night he had gone out with other players of this 1-5 team?
In any event, the key message is that given the current state of professional football, with scandal upon scandal heaped on one another, no one is really "safe" from the scrutiny of off the field behavior.
For those fans who feel that getting fired for "just a DUI" is ridiculous (or whatever you want to say), take it out of the realm of sports completely. Suppose he was, for example, a high school principal or a scout leader where his actions influenced others? Suppose he was an aircraft mechanic for a major airline or he was a surgical nurse where what he did could affect the lives of other human beings? How would we view his judgment?
The times have changed and they will continue to change in professional football. Off the field behaviors will continue to come under intense scrutiny; it will not go away. It is no longer and insular old boy's network.
However…and it's a big however, if no ethical training had been in place for the staff, if no one reinforced the messaging of choices and consequences and "ethical muscle memory," if no one talked of expectations, then it is easy to see how slips of this nature could occur.
At Sports Ethics we work with front office staff as well as with coaches and players. We never judge, but we try to guide. Mr. Harris should have known better, but maybe he also needed to be taught better.