Given a choice, we believe the kids – and though we don't want to create a firestorm, we believe the voices of the boys who have endured sexual abuse and have been silenced by bullies, predators, big money and idiots.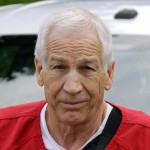 Who we don't always believe are over-invested, over-hyped alumni fanatics. We love our colleges and universities and the aspects of those institutions that have made them great. We appreciate children even more. Ethically, we never try to confuse what is important from what is "nice."
We have long admired Joe Paterno's coaching record and his abilities as a coach. Not one word of this blog will disparage him as a football mind. However, Joe Paterno was also the face, voice and CEO of the football program. The over-invested, over-hyped alumni fanatics may not want to face or believe that, but Paterno had the responsibility to know what was going on in his program. No argument, end of story.
We have analyzed the Penn State/Jerry Sandusky scandal over and over again. It is a convoluted and tragic case. Yes, tragic. It resulted in Paterno's legacy being dragged through the mud; it sent Sandusky to jail; it shamed the football program and even caused the infamous statue to be removed. None of that though, none of that, compares to 10 boys involved in Sandusky's charity who were sexually abused by the now jailed coach as well as Sandusky's own stepson.
Sandusky is now appealing his sentence. Why not? You can get a lawyer to defend anything, as though the first trial was a sham where all of the boys (now grown young men) had somehow colluded and lied. Go for it Jerry, re-tell your story so that even you believe it.
Something troubling
Chuck Gallagher is one of America's leading keynote speakers on the topic of ethics. He consults, speaks and writes on ethics and in his practice, be it sports ethics or business, Chuck constantly analyzes cases and situations where unethical behavior has been in play. In viewing the Penn State/Jerry Sandusky scandal over and over again, what became increasingly troubling was the ethical disconnect.
Simply put: how could Paterno not know that something was amiss? There were comments and indications over the years that his assistant coaches had very strong suspicions about Sandusky; bad suspicions. These worries went back to at least 2001 and many feel far earlier than that; as far back as 1976. The accusations were allegedly covered up and dismissed.
Now, as new allegations emerge that apparently Joe Paterno did have knowledge of Sandusky's on-going sexual abuse suspicions. Organizations such as "Penn Staters for Responsible Stewardship," are calling for a fair examination of the sealed facts. Why these jokers need to see anything is beyond our comprehension. It is a matter for the courts, the insurance companies and the abused young men.
There are challenges that say no evidence exists that the suspicions among the assistant coaches ever went up the chain of command to Paterno's office. If the insurance company, in litigation, can prove the university – and Paterno in particular, had knowledge going back decades, it could cost PSU millions in insurance claims. Oh yeah, it also comes down to money.
This is an ethical disconnect where no one seems to know, no one wants to know, no one wants to believe. Meanwhile 10 young men, psychologically scarred for life because a coach sexually abused them in the PSU showers, are trivialized.
Who was in charge?
What kind of an ethical climate had been set up at Penn State? We realize it may not be important to Penn Staters for Responsible Stewardship, but every parent, every athlete, every coach, every AD and their assistants should be damn well invested in ethics when it comes to the welfare of children.
Like it or not, Joe Paterno was in charge of his organization, no different than if he were the CEO of an auto parts company or a bakery. The buck stopped with Paterno and if, over the years, he or his immediate assistants had lost so much touch with staff that no one was truly "in charge," that in itself was a huge problem.
Sexual abuse is a major crime. Even if Joe Paterno had not seen it occur with his own eyes, it is impossible to not wonder why those with suspicions did not trust "the process" enough to come forward. Or was the organization so filled with cronyism and "favorites," that doing the right thing was lost amid the bright lights and beer?
Or maybe the topic reviled all of them. Had the sexual abuse been against young girls rather than young boys, might have this turned out differently? We don't know.
What we do know is that there was a severe ethical breakdown. Joe Paterno was part of it. It's about time the national dialog on ethics in sports needs to come out of hiding. It's about time people believe more in protecting kids than legacies.
For more information:
Sports Ethics LLC
(828) 244-1400