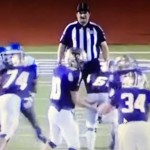 In San Antonio last weekend, John Jay High School lost 15-9 to Marble Falls. I guess we could call that fact number one.
Second fact: two John Jay players were ejected from the game by referee Robert Watts for trash talking with just a few minutes left in the game.
Fact three: with about a minute left in this otherwise meaningless game, referee Robert Watts was viciously tackled by two players from John Jay. It was premeditated; one was a blind-side hit and the other was a spear.
Amazingly, the player who blind-sided the referee was allowed to keep playing! The two football players would be suspended from school but the suspension would not start until after the game. I suppose that is fact number four.
Everything else is open to conjecture.
The hits are under review by the district, by the school and it is under review by the legal system. All three reviews are for different reasons.
Ugly all around
This is a very ugly situation. It encompasses the worst in sports.
The school is investigating because the players contend that racist remarks were made by the referee. The referee adamantly denies this.
However in the meantime, the school has suspended an assistant coach, Mack Breed. Breed allegedly told the players to take out vengeance on the official for ejecting the two other players a few minutes earlier. He allegedly said: "That guy needs to pay for cheating us." By "that guy," I guess he was referring to an authority figure.
The head coach for John Jay, Gary Gutierrez has already apologized. His apologies included an apology to the head coach of Marble Falls.
The district is investigating because this incident from top to bottom is unethically and legally rotten. Despite the apologies it is a program that has lost control of some of its athletes and apparently, some of its coaching staff.
The legal system is investigating because the referee is bringing charges. This is an action we heartily endorse.
If it is shown that the adult authority figure, the assistant coach, urged his young athletes to seek revenge, the referee has a good case. He is not only pursuing legal recourse because of the assault but also libel and slander charges as the result of accusations of racism made against him. He wants to take this into the courts. We hope it happens.
What is this case about?
Ultimately, it is about a lack of ethical controls. The causative effects of this case extend far beyond the football field. It is a societal woe where values are relative, most everyone claims victimhood and expectations for responsible, ethical behavior are going down the drain.
No open season on officials
Chuck and I work together on close to 200 blogs a year – maybe more. Sometimes patterns repeat themselves. We are alarmed by the number of physical assaults and threats from coaches and parents toward officials.
This attitude is filtered down to the kids every time a penalty is thrown at them.
It must stop and it is up to coaches and parents to stop it.
I know many officials and I know many officials who have quit in disgust. Let me share something any responsible adult reading this post already knows:
The vast majority of officials care deeply about the sport they "work," they get paid next to nothing to do it, and they really, really try to make it about the kids. I would invite any "complainer" who thinks they can do better than their local officials to become officials themselves. Put up or shut up. Experience has taught me they won't.
Our belief, not our knowledge, but our belief is that the two players either on their own or with the blessing of the assistant coach, somehow thought it was all right to beat the crap out of the official because they were angry at him. They are children in young adult male bodies. Note I did not say "man," or "young men," but male. There is a vast difference.
Sports Ethics LLC has repeatedly called for fines and imprisonment for any coach or parent who assaults an official. We will not be changed from that position.
We teach our young athletes all kinds of skills, but we are failing them if we do not teach them to be responsible human beings.
Chuck Gallagher, President Sports Ethics LLC  (828) 244-1400
www.sportsethics.com
For more information on Sports Ethics, LLC:
Chuck Gallagher, President, Sports Ethics   (828) 244-1400
www.SportsEthics.com