"Don't think you're not replaceable…The name on the back of that jersey belongs to your parents, and you don't screw it up. It don't belong to you."
─ Herm Edwards, Under Armour High School All-American Game Practice (December 31, 2015)
There is a back story to Herm's quote, just as there always seems to be whenever great passion arises from a situation where bad choices are made.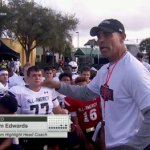 The athlete in question is TCU (ex) quarterback Trevone Boykin. In the small hours of the morning on December 31, 2015, Boykin assaulted a police officer outside of a bar. Once upon a time Boykin was a contender for the Heisman Trophy. After his arrest and release on bail, he will be sitting on a bench as TCU attempts to win a bowl game against Oregon.
The reason that Trevone Boykin was upset was that he was "heckled" in a bar by a bunch of drunks. That's it. He was heckled and he didn't like it. A fight broke out. Rather than walking away from it, Boykin started swinging. We don't know if the assault on the police officer was accidental or intentional. The result is the same; this tremendous athlete, obviously NFL bound, won't be playing in the most important game of his life.
To their credit, his teammates attempted to intercede but Boykin broke away from them and went after the police officer. He had "something to prove," you see.
According to the Associated Press (December 31, 2015):
"His teammates had tried to take him back to the hotel, and he broke away from them and came back and he got into it with the officer. Mr. Boykin was finally subdued after being threatened with a Taser.
Boykin was released on $5,000 bond. He left a Bexar County jail with a coat over his head and did not answer questions from reporters." He showed them, huh?
Choices, consequences and ethics training
Will this really bad choice prevent Boykin from entering the NFL draft? Of course not. In fact, I imagine he has already hired a publicist to "spin" the incident, deflect questions and "put the dumb choice behind him." It is what we do in present day society when muscular males pretend to be men. Never mind he has put an entire program in jeopardy, affecting the lives of every athlete and coach on his team and the legion of TCU fans who pinned their hopes on his talent.
Will this really bad choice prevent Boykin from entering the NFL draft? Of course not. However, I imagine his stock has dropped as potential teams question his level of maturity and judgment. I would too. I would imagine that for the first time in his young life, Trevone Boykin is facing the full force of consequences of his actions. Our society, especially our "athletic society" often fails to understand that there is a full set of expectations for athletes off of the field.
As an amateur historian, I sometimes reflect on the generations before ours; our fathers and grandfathers who fought and died in places such as Normandy, "The Bulge," "Iwo Jima," "Anzio," and so many other battlegrounds. Most of those young men were Boykin's age. All too often we coddle young athletes who mess up for their off-the-field behavior. Unless there is intervention by responsible adults, it leads to ever more serious behaviors.
Treading lightly
Sports Ethics never paints all athletes with the same, broad strokes. I am sure that right now, even if they are not verbalizing it, some of Boykin's (now) ex-teammates who understand bad choices are furious with him. He felt he was bigger than the team and he swallowed all of the hype that surrounded him.
Could anything have presented this from happening? While we have no magic powers to see the future, strong Sports Ethics training might have greatly helped.
Chuck Gallagher's training sessions are different, because he understands where bad choices lead. He fully lived and made terrible choices, and it cost him dearly. For more than 20 years Chuck has taught and spoken on the topic of ethics. Chuck doesn't pretend he is an ex-jock wannabe, but he teaches athletes what can and will happen when they make bad choices. He never coddles, but talks right from the heart.
TCU Nation is now paying a HUGE price for Trevone Boykin's bad ethical choices.
Now we come full circle to Herm Edwards. Mr. Edwards would never coddle Trevone Boykin. He, like Chuck, understands that the playing life of any athlete is ridiculously brief, and that after a sports career no one cares why an athlete assaulted a police officer, only that he or she did.
Sports Ethics training should not be a luxury but a necessity. One session might have changed Trevone Boykin's actions. That didn't happen. Now come the consequences. And they will come.
For more information and media inquiries on Sports Ethics, LLC:
Chuck Gallagher, President and Co-founder, (828) 244-1400