Pittsburgh Steelers defensive end Cameron Heyward has been honoring the memory of his late father, Craig "Ironhead" Heyward. Each time he honors his father's memory, he is fined nearly $6,000.
He has no intention of stopping.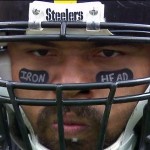 You may remember Craig Heyward who was a running back for five different NFL teams. He was imposing to say the least and over his career his weight averaged about 280 pounds. Somehow and somewhere along the line he picked up the unusual nick-name. In his career, Craig Heyward was nearly impossible to stop. He was tragically stopped by bone cancer in 2006. He was only 39.
His son honors his father by writing "Iron" and "Head" on the left and right eye black strips under each eye. He doesn't have a flashing neon sign on his jersey, he doesn't wear arm bands or paint his helmet, he wears the strips which are (naturally) obscured by the hardware of the helmet. No one in the stands sees it.
There are people in the NFL who are actually paid to walk the sidelines and who look for infractions; for example, socks too high or too low or writing on wrist wraps or unauthorized shoes or even unauthorized brands.
You know what? I get all of that. The league want to maintain its quality control. The league wants to protect its sacred shield.
Cam Heyward is not trying to be a jerk. His heart is in the right place. He told the following to ESPN last week:
"There are a lot of other things we could be worried about. Guys want to do right by the league. They don't want to upset anybody. I do it to honor somebody…We're not trying to gain publicity by it. We grew up in this game loving it. To be a part of it is a blessing, but I want to honor [my dad]."
The NFL wants what the NFL wants
The eye strips, as Cam Heyward so clearly points out, are far from the most important issues the NFL is facing. I am sure we can all come up with a list of extremely important agenda items the NFL needs to address at its meetings. They are collectively burying their heads in the sand on issues ranging from domestic violence to substance abuse to head trauma and PEDs.
My issue is an ethical one; the inconsistent application of how the rules and regulations are applied. If the league wants its quality control, let it do it across the board.
For example, every year the NFL honors the fight against breast cancer. For the record, I am not diminishing this terrible disease, I have friends and family members (both women and men) who have battled the disease. The players, the field, the signage, the uniforms are all modified in a corporate endorsement of this illness. I will not get into the critiques of how little of the funds actually go to research, I will only say the corporate approved endorsement is somehow accepted "officially." I am not naïve about such promotions; there's a lot of marketing and outreach to women with program – and again, I am not diminishing the disease. So breast cancer is "approved," whereas bone cancer is rejected. Why not a recognition of prostate cancer as your fan base is overwhelmingly male? Why not all cancers?
When an owner passes away, uniforms or helmets are often festooned with patches or stickers with initials of the deceased. If a player loses a parent, friend or other family member, can't the NFL allow the player of some small way of honoring that person? Eye black, or a sticker or some other expression that is unobtrusive should not be a deal breaker.
There have been other events the NFL has honored and in fact, has made a grand showing of those issues. What is the harm of allowing a player from honoring his father?
If the NFL wants to create a bland and neutral product, why be inconsistent? Why allow a corporate sponsorship of some issues and a rejection of others?
I love football but I also know that men and not machines play it. Further, the men who play it have emotions. Maybe the NFL should occasionally recognize that we fans like the human aspect; the eccentricities, the passion and even the personal pain the players bring to the game.
Sports Ethics LLC
Chuck Gallagher, President and Co-Founder
Telephone: (828) 244-1400
www.SportsEthics.com