"He wore America's Heart over His" – Movie Promotional Subtitle
 So sue me. I am a sucker for any sports movie that comes along; even the bad ones. I can trace my love of these movies to a grainy B&W movie I watched as a young boy, "Jim Thorpe All-American." It was a Warner Brothers release (1951) and it depicted the rise of one of the greatest athletes in our nation's history. The movie was not "high art," but to my young eyes it was inspiring, beautiful and ultimately tragic. His character was played by Burt Lancaster.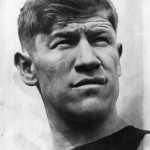 Children don't understand aging or tragedy all too well – maybe they shouldn't. To see Jim Thorpe go from a kid on the reservation to become a multi-talented, world-acclaimed athlete and finally to descend into alcoholism was more than I could fully understand.
As an athlete, he was vilified, slandered and mocked. If you don't know his story, please learn it and teach it to your children. If you never appreciate him on any other level, appreciate that he won the Olympic decathlon and pentathlon, starred in football, basketball and baseball and briefly became a coach. He was also an actor and ultimately worked at any kind of odd job he could find to try to survive.
Jim Thorpe's greatest failure might have been that he has born in the wrong era. Had he lived now, his Olympic medals would have never been stripped (yes, I know they were ultimately restored but 30 years after his death), he would have gotten counseling for his alcoholism, he would have signed huge contracts with Nike or Under Armour or Adidas.
Those that are smug in the knowledge that Jim Thorpe would be no big deal athletically in 2015 fail to understand just what he accomplished when he accomplished it. And for the record, suppose your future kids or grandkids mocked the accomplishments of athletes such as Bo Jackson, Matt Holliday, Michael Jordan and Todd Helton – all multi-sport phenoms.
We live in the age we live.
Rest in peace, Jim
I have been thinking about Jim Thorpe a great deal because his surviving sons, all (obviously) old men, tried to get the U.S. Supreme Court to have his body removed from his burial place in Thorpe, Pennsylvania sent back onto the Sac and Fox Nation reservation in Oklahoma. When Mr. Thorpe died in 1953, his wife took his body back to Pennsylvania for burial from his gravesite in Oklahoma.
It is a complex matter. To be fair, Thorpe, Pennsylvania was a town created in Jim's honor and he in interred in a beautiful memorial. On the other hand, his children remain angry that their father was removed from a grave in Oklahoma where he was buried according to custom and shipped back east. There are arguments – valid ones, to be made on both sides. The sadness and triumphs of Jim Thorpe's life have followed him to his grave.
A strange idea? Well…think about it.
This is more of a legal issue than a sports ethics issue, I am sure. I am writing about it because maybe – just maybe – there is an idea here worthy of exploring. You see, the Green Bay "Packers," were never really packers. They were ironically, the Indian Packing Company. Buffalo Bill had nothing to do with the Buffalo Bills. The New York Giants are all big guys, but they are no larger than, let's say, the Philadelphia Eagles. For the record, Cardinals are to be found in Arizona, but not in great abundance. In fact, in most of the state, hardly at all.
So here is an idea for the Washington Redskins. Keep the logo, change the name of the team to the Thorpe's. That's right. Name the team after Jim Thorpe. Let us not forget that it was Jim Thorpe who was the first president of the American Professional Football League in 1920/21, which became the NFL in 1922. That, in itself, is a pretty good argument.
Is my idea crazy?
When was there ever a Pirate in Oakland, or a colony of Titans in Memphis, and how many rams roam the streets of St. Louis? Why not the Washington Thorpe's, or the Fighting Thorpe's?
Let the Washington team reflect the values of an athlete who was stripped of everything but his dignity and his amazing athletic ability. A man who came from poverty to become one of the nation's greatest athletes. What an ethical tribute it could be! What a lasting tribute to the man, his people and our nation.
(Written by Chuck Gallagher and Bruce Wolk)
For more information:
Sports Ethics LLC
Chuck Gallagher, President and Co-Founder
(828) 244-1400
www.SportsEthics.com