It is not a huge, national sports story. It has nothing to do with Deflate-gate, Tiger Woods shooting an 82 or the upcoming Super Bowl and Marshawn Lynch and his media day circus. This little story, in its own way, is bigger than all of the other stories I mentioned above.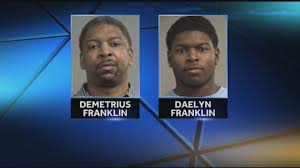 On January 28, 2015, Yardbarker.com (Larry Brown Sports), ran the following story: "Father and son allegedly attack coach over playing time."
The story is a reflection of entitlement, parental interference, lack of respect for authority, violence and it sums up much that is wrong in high school and collegiate sports. According to writer Steve DelVecchio, the following occurred:
"A father and son who allegedly attacked a basketball coach after a Trinity (Ky.) High School game were arrested on Tuesday and charged with assault. According to WDRB in Louisville, Demetrius Franklin, 48, and his son, Daelyn Franklin, 18, have been accused of approaching Doss High School coach Tony Williams in a hallway at Trinity and hitting him several times with closed fists. Williams told authorities he was 'knocked sideways and out of the door of the building' and suffered injuries to his head, face, neck and lower back.'"
It has also been said that the father smelled of alcohol, but whether he was drunk – or not, is a side-story and not the main story. To my mind, it only furthers his shame.
How have we gotten to this point?
It is not news that we have become a society based on immediate gratification. It is where entitlement comes from, and the problem is getting worse. If you don't believe me, ask any linesman, referee, umpire or coach. Many parents have become unbearable, and they have become "helicopters," inserting themselves in situations where they have no business interfering.
Mind you, none of these helicopters want to coach or to officiate, they just want to criticize. They believe they are ESPN color analysts, or Fox Sports commentators. They themselves might have played freshman basketball back in the day and couldn't cut it, but they somehow know it all. They are entitled and so are their entitled kids.
In case anyone who is a friend or follower of mine is under any delusion, high school and most collegiate officials make next to nothing; coaches make only slightly more. Please don't confuse a small conference or a D-III official with an SEC, D-I official.
These men and women do it for the love of the game.
In very recent conversations with officials and coaches of high school football, women's fast-pitch softball and baseball, they have confided that they are ready to call it quits. It is just not worth it.
The problems attendant with parental interference, bullying and violence have gotten worse because of a lack of ethical standards. Stone-by-stone, brick-by-brick, the wall between proper behavior and entitled, whining and even violent interference has been torn down. While it has happened, most reasonable parents and administrators have stood by and done nothing.
The case of Mr. Franklin and his son, while violent and absolutely inappropriate, is not as over-the-top as might be imagined. Just this week, a video went viral of a hockey father, angry at his son's play, smashed a glass panel at the rink. We recently talked of parents at a middle-school football game, getting into a fight. There are numerous videos taken of parents attacking officials because they did not like the call. Name the sport.
Each time one of these incidents occurs, we are quick to watch parents behaving badly (it is like Reality TV), but we never hear of the consequences and that is the problem. There are virtually no consequences for bad behavior.
Build the ethical wall now!
It should go without saying that the father and son involved in this case, no matter the legal consequences, should be permanently banned from the team or ever entering the gym again. There needs to be strong ethical codes put firmly into place no matter the sport or the game situation.
These codes are above and beyond any legal decisions. Parents, friends and associates can complain in the stands all they want, but the minute they step onto the field, touch a coach or official, make any threats, they should never be allowed on the field again – and their child should be removed from the team as well. Too bad for your kid; explain to her or him why it happened.
I also believe in restitution. I would love it if lawmakers could take a serious look at assaults on officials and coaches and assess fines for on the field violence for any organized sport. I would start at fines of $1,000 and move up the scale. No, I would not give these helicopters second chances. No official or coach deserves to be assaulted or even threatened.
These kinds of penalties are neither harsh nor unrealistic, but can be set down and made quite clear from the outset of each season, no matter the sport. These are called consequences. It is about time. It is way overdue.