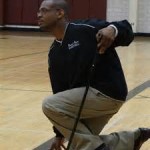 We have gotten in the habit of awarding a "Sports Ethics Good Guy Award" when we find individuals at any level of sports who exhibit outstanding tenacity, courage and a strong sense of ethics.
To be honest, we give this "award" as much for ourselves as to honor the individuals.
It is so easy to get jaded and turned off by sports if we focus only on the negative. Fortunately, there are good people out there who do try to make a difference. These people elevate all of us. We can hammer away at the negative tomorrow; for now, we would like to honor someone special.
Imagine you are a 14 year-old kid and you dream of becoming a professional basketball player. It's not so hard to envision. We have all had similar dreams of success and glory.
In this particular case, one night you go to sleep happy and healthy, whole and full of life, and you awaken paralyzed from the waist down, along with having vision problems. If you can enter that world of thought, you can get a glimpse of what once confronted Karl Turk.
In a fine article by Amanda Jackson for CNN (March 3, 2015) entitled: "Dreams come true for disabled coach," we are introduced to a man who would not be denied his dream of being involved in the sport of basketball.
To quote from the article:
"Turk is the head basketball coach at West Oso High School in Corpus Christi, Texas. His team just clinched the district championship after an undefeated district season and are playing in the Texas State Basketball playoffs. It's an impressive run for his first season as head coach — and an inspiration to his young players."
Love and support
A child needs love and nurturing; someone who believes in them. In the case of Karl Turk it was his grandfather; a man who taught his grandson to love sports, and basketball in particular. By the time he was in grade school, Karl knew what he wanted: to be a professional basketball player.
The dream was crushed by paralysis in January 1994. After testing and diagnosis, the teenager was left to face the possibility of never walking again, let along walking into a gym. The inflammation that affected his spinal cord often leaves permanent paralysis.
We have to also credit Reggie Miller, the Indiana Pacers' All-Star player, with helping out here. Miller heard that the 14 year-old was in the hospital and that Turk was his biggest fan. Miller graciously visited him and encouraged Turk to not give up on his dreams. Miller, himself, had suffered from hip problems and he was forced to wear leg braces as a child. The meeting was inspirational and life changing.
After more than two months in the hospital, Turk began intense physical therapy and over the next three years he was finally able to walk with the help of a cane. He entered college with his dream intact, but he realized he would never get on the court as a player. He changed the dream to being a coach. Ms. Jackson writes:
"In 2004, he met Coach Ronnie Arrow, the head basketball coach at Texas A&M University-Corpus Christi, at a summer basketball camp and later worked for Arrow as the school's director of basketball operations.
'When you first see him, you may think he can't do what others can,' Arrow, now retired, told CNN. 'But he gets the job done no matter what.'"
The experience in 2004, started the young man on an odyssey to someday be able to coach his own team. He applied to numerous schools and no one would give him a shot.
This is where anyone of us who has ever been at a crossroads in life – no matter where or when we are in life – has to make a decision. Either we will allow the circumstances to defeat us, or we will do everything in our power to defeat the circumstances. Not to be denied, for two years Karl Turk studied anything on coaching that he could find. He learned different coaching techniques, coaching methods and sought out advice whenever and wherever he could find it.
Finally in 2010 he was hired on as an assistant coach for a high school team near Corpus Christi, Texas; West Oso.
In 2014, he became the head coach for West Oso. He has incorporated the values of all of his mentors; his grandfather and Reggie Miller included. West Oso is undefeated this year and about to go to the Texas State championships.
"I want my students to know that I care about them, that I work for and belong to them," said Turk.
It is said that his players don't see his disability. That is because he has no disability. He is our Sports Ethics Good Guy. We're pulling for him now, and we would bet we'll one day be pulling for him at the next level.