Maybe Jeffery Taylor thought he was playing in the pre-Ray Rice era NFL. He's not. He's a professional basketball player playing for the NBA.
More specifically, he is playing for a league headed by a fair, and even-keeled commissioner. Adam Silver does not put up with a lot of crap, nor should he.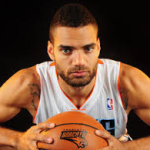 USA TODAY writer Jeff Zillgitt has just reported (November 20, 2014) in an article entitled: "NBA suspends Hornets' Jeffery Taylor 24 games," that forward Jeffery Taylor must not only miss the games without pay, he must get counseling and perform community service.
Taylor got loaded on September 24, 2014, trashed a hotel room and then engaged in domestic violence. Why? There are potentially any number of reasons. He is immature perhaps, can't handle alcohol perhaps, thinks he's back in school perhaps, likes to smack around women perhaps, or maybe he is just ungrateful for being a multi-millionaire with incredible God-given talents.
Silver issued a lengthy explanation of the punishment that maybe every aspiring professional athlete should slap up on his or her mirror (the term "NBA" can be substituted with the league of choice):
"Domestic violence is a serious societal issue that is antithetical to any community or organization that prides itself on the values of respect for others good moral character, and common decency…These values are central to the NBA, and domestic violence is an issue that is commanding our full attention. I have the responsibility to safe guard the best interests of the league and all of its constituents. ln addition to its profound impact on victims, domestic violence committed by any member of the NBA family causes damage to the league and undermines the public's confidence in it."
Taylor lucked out
He was given 18 months of probation and he must complete 26 weeks in a domestic violence intervention program. In addition he must enter an alcohol outpatient program. Had he just been a working stiff, I am not so certain he would have gotten off so easy.
He has been given an unbelievable gift; he is seeing first-hand the direct result of poor choices and bad consequences. If he is smart, if he is grateful, he will understand this lesson and will embrace it. To their great credit, the NBA Players Association is working with the NBA to find a good counselor.
Rather than being at logger-heads with one another, in this league the associations actually have a civil dialog and can work together to accomplish great things to advance the league.
It is all about product
The NBA, fortunately, is not waiting on the results of opinion polls as does the NFL. The NBA is concerned that its players must also be citizens of the world. Civilized people do not tear apart hotel rooms in drunken rages and then beat the heck out of women.
Ultimately, the leagues must decide on what their products are supposed to look like. Football should be a tough and violent game on the field; not off. The NFL looked the other way for years. They are riding sky-high on a wave of fan loyalty and, let's face it, more than a little gambling, but who knows how long the wave will last? Will it last until another incident occurs? Or a new series of medical reports? Will it last until there is an economic downturn? Or will it last until people simply tire of the nonsense? What we do know is that fewer children are playing football and more are playing soccer and basketball.
The NBA is not waiting. The NBA has a product to protect and by and large, it is a very good product, international in scope, with a loyal fan base.
Jeffery Taylor is at the crossroads. If he listens to his advisors and to guys like Adam Silver he will succeed in life. If he laughs them off he will wind up like hundreds of other no-names. I know this; I have seen it happen.
The choice is his.