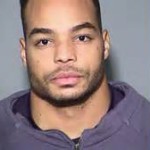 Arguably, Josh McNary, the Indianapolis Colts linebacker, was about to face the biggest game of his career. Whether by miracle, divine intervention or (what I like to believe) by good, hard-nosed football, the Colts defeated the Denver Broncos to make it to the AFC championship game.
It is not going to be easy to get by the New England Patriots to contend for the Super Bowl, but with an intact team, a team driven to one purpose and a team without distraction, they had a shot. Josh McNary was just placed on the NFL's exempt list because he has been charged with rape, criminal confinement and battery. He has poisoned the waters before the game even begins.
According to an article by Tom Pelissero for USA TODAY (January 15, 2015) entitled: "Colts' Josh McNary placed on exempt list after rape charge," we learn that the decision to put McNary on the  list is a direct result of the new Personal Conduct Policy.
"This action was taken pursuant to the Personal Conduct Policy with the support of the Colts following the filing of formal charges against Mr. McNary by the Prosecuting Attorney of Marion County, Indiana,' the NFL said in a statement. 'McNary was charged yesterday afternoon with felony counts of rape and criminal confinement, and a misdemeanor count of battery resulting in bodily injury. The Colts have expressed the club's full support for this action.'"
To summarize the woman's point of view, she claims that after meeting "a man" in a bar, they had a long night of drinking (my italics) and he took her to his apartment and raped her. It is a long story. She admitted that she was very, very drunk. She claimed that she tried to fight the man off, but that she was too weak and too drunk. She claimed that as he (allegedly) started to rape her that she said no. She ultimately "escaped" the apartment after he went to use the bathroom.
The article continues:
"On Thursday morning, McNary's attorney, Edward F. Schrager, released the following statement on behalf of his client: Joshua McNary unhesitatingly denies all accusations made against him. Following the public release of these allegations, Joshua immediately reported to law enforcement officials in a respectful and peaceful manner…The charges and affidavit publicly disseminated on Wednesday afternoon are not evidence of wrongdoing, but simply one side's story."
No means no and why means why
Yes, I fully understand concepts such as "no means no" and also of "he said and she said." I am a parent and a grandparent. I am an advocate of women's rights and of all kinds of important Title IX issues in sports. I dislike glass ceilings for anyone. However, I always like to take a wait and see attitude. "Wait and see" is not the same thing as failing – for months – to look at a videotape. It is a wait to hear the evidence.
In allegations as powerful as rape or forced confinement or abuse, we often forget there are two people involved. In my cluttered office, far away from Indianapolis, I have no idea what happened between these two adults that night. Guess what, right now, neither does anyone else.
Instead, I will make another observation: "Why Means Why."
Why would a professional football player about to play the biggest game of his life, take a woman who, by her own admission, was intoxicated almost to the point of passing out, back to his apartment? Why risk it? Why bother?
Why, I am asking, didn't McNary exercise common sense and good judgment to not make this mistake when so damn much was at stake? If he "liked her" so much, he could have called her a taxi. If he really liked her, when she sobered up, he could have seen her again. But I am not the president of match.com or eHarmony, only someone who teaches sports ethics
I know that Joshua McNary will have many defenders; most of them will be diehard fans. Not one "fan" knows what happened that night. In any case, it is too late to defend him. The damage has been done. He will not play.
Please understand that I am not asking these "Why" questions because I believe him to be guilty or innocent. I am asking them to point out that it is almost always the off-the-field decisions that get athletes into big trouble.
It is a "Why" of guilt by association. It was a stupid choice that will lead to many consequences. No athlete, especially an athlete about to play in the biggest game of his life, is immune from good ethical behavior. Unless more teams and organizations teach athletes about the consequences of their actions, these kinds of situations will happen over and over again.