As a sports ethics speaker and consultant, I am not someone who likes "posturing." For example, I don't like football players bullying non-football players because "football is a tough sport." That's a pile of horse poop. I don't like NASCAR drivers getting into well-publicized fights because they're "good ol' boys." I understand it, but it's getting a little too predictable and stupid for my taste.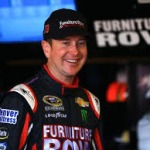 But when stupid goes from the track to domestic violence, then we're in different territory. It's where stupid becomes criminal.
According to USA TODAY (November 7, 2014) in an article by Jeff Gluck entitled: "Report: Kurt Busch smashed ex-girlfriend's head into wall," we learn of alleged domestic assault where Kurt Busch decided to take his anger out on his ex-girlfriend by smashing her head into the wall of his trailer. The article, quoting the Associated Press:
"Driscoll (the ex-girlfriend) has filed court documents requesting Busch stay away from her and her son Houston. She also wants the driver to be evaluated by a psychiatrist and a certified domestic violence treatment agency…according to the documents, Driscoll said Busch, 36, was verbally abusive and accused her of 'having spies everywhere and having a camera on the bus to watch him.' He grabbed her face and smashed her head three times against the wall next to the bed, the documents say."
A court hearing has been scheduled for December 2, 2014
Ironically, Busch has hired a lawyer, and it's the same lawyer that Adrian Peterson hired after the football player took a switch to his 4 year-old son. As of this date, Adrian Peterson is still out of football despite his big time lawyer.
Not NASCAR's First Dance
One more quote from the article that we should keep in mind:
"Last October, NASCAR did not take action against Sprint Cup driver  Travis Kvapil, who was arrested and charged Travis Kvapil with false imprisonment and assault after a domestic violence situation at his home…Kvapil was eventually placed on two years' probation and ordered to perform community service."
Maybe this time, NASCAR will take action. In a sense, does the organization have a choice? NASCAR is saying the usual public relations stuff, that they are "aware of the situation." No one really knows what that means. I am aware that my local hardware store is having a sale on paint today, and we need to paint the garden shed. I "would be very concerned" if my neighbor allegedly slammed his wife's head into a wall three times.
Language aside, one thing has become very, very clear: the universe of sports is changing. The world of NASCAR, much like the world of the NFL or MLB or the NBA is no longer a "them and us" mentality. The public, that would be you and me, care about what professionals do off the field or track or wherever they may be.
So if a football player slams his girlfriend's head in an elevator, but the NFL does nothing it will no longer be business as usual. If a driver commits a crime and the law gives penalties and NASCAR does nothing, it better not be business as usual. You-don't-assault-women.
Follow the Money
Busch has sponsors and the sponsors pay out a lot of money to slap their logo on his car. If he is under suspicion, I can promise it will not be good for Kurt Busch and his team.
NASCAR is going to have to make some huge decisions. The world of motor sports is no longer an isolated or closed world, not after all that has happened in sports these past few years.
Off the field behavior is going to matter more and more and like it or not, it is about time. It comes down to ethics training, and codes of conduct, and handing out consequences for poor choices.