You don't hit women. You don't choke women. You don't slam their heads into a wall. It is called domestic violence. Kurt Busch committed domestic violence against ex-girlfriend Patricia Driscoll in his motorhome on September 26, 2014. It was not alleged; it happened.
According to an ESPN report by Bob Pockrass for ESPN (February 21, 2015):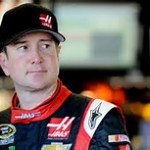 NASCAR suspended Busch after a Kent County (Del.) Family Court commissioner issued findings and opinions Friday for a protective order he granted Monday to Busch's ex-girlfriend Patricia Driscoll.
In the opinion, Commissioner David Jones found that the preponderance of the evidence from testimony in December and January showed that Busch strangled Driscoll with his left hand and with his right hand on her chin and face, caused her head to forcefully hit his motorhome wall Sept. 26 at Dover International Speedway.
The NASCAR appeals panel rarely overturns behavioral penalties because of NASCAR's broad behavior rule: 'NASCAR membership is a privilege. With that privilege comes certain benefits, responsibilities and obligations. Correct and proper conduct, both on and off the race track, is part of a Member's responsibilities.'"
Yes, I know there is spin
There is plenty of spin out there. Driscoll allegedly had the reputation for not being a nice person. OK, fine. She is not a nice person so dump her; change the keys to the motor home; you're Kurt Busch and you have a lot of money – hire 16 security guards to keep her away, but don't smack her around. You will lose.
There were stories circulating that she was allegedly some kind of hit-woman; an undercover spy; a CIA operative. OK, you want to play it that way, go to the media; run an expose; hold a press conference; hire 25 security guards, but don't touch her.
Then, of course, there is his lawyer, Rusty Hardin:
"We are very disappointed that our appeal was rejected by NASCAR's appeal panel. We are re-appealing immediately, per the proscribed process. We have significant and strong evidence that contradicts the Commissioner's conclusions. In the end we are confident that Kurt will be vindicated and he will be back racing. Until then we will continue to fight on his behalf by ensuring that the entire truth is known.
In the end we are confident that Kurt will be vindicated and he will be back racing. Until then we will continue to fight on his behalf by ensuring that the entire truth is known."
I have no doubt that Hardin is a very good attorney. My question to him might run along the lines of:
"Are you saying sir, that your client never touched Ms. Driscoll?"
I am rather proud of NASCAR. If I have read properly, it would appear that lawyers are not allowed in hearings for bad off the track behavior. It was Busch versus a disciplinary committee. He lost.
When it comes to domestic violence, statements such as: "We will fight on his behalf until the entire truth is known," just don't cut it. It is just spin.
Ethically, Kurt Busch made a very poor choice and now he is barred – at least in the short term, from being on the track. He is paying the consequence. He is losing a lot of money and many sponsors and endorsements will fade away as well.
I know that Kurt Busch has a lot of fans, and why not, he is a fantastic driver. However, beating up women and children is no longer tolerated by society.  It should never have been tolerated by society. It is just not done. Think about your moms, wives, girlfriends, sisters and female friends. Would you tolerate anyone wailing on one of them? I think not.
Kurt Busch needs a rest from the sport. He also needs ethical training.