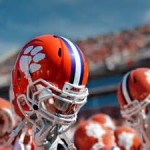 The news out of Clemson may be troubling if you play Tiger's football and you think you are addicted to the social media. According to Scott Keepfer, writing for the Greeneville (SC) News:
"The Clemson football team's social media shutdown went into effect on Aug. 3, the first day of fall camp. Players don't have to delete their social media accounts, but are forbidden from being active on them until season's end.
The annual ban, which has become standard procedure for the Tigers over the past several seasons, is designed to keep the team focused on football and class rather than goofball and sass."
Keepfer's August 14, 2015 article, entitled: "Shutting it down: Clemson players ready for season without social media," is a very well written piece that underscores some important sports ethics issues. It is worth your while to read it.
While the players will miss commenting on the social media (they can still access it), there is almost a sense of relief and quiet resignation to the ban.
One quote worth noting, and talking about, was made by D.J. Reader, the 320 pound, DT. He was explaining the risks of falling into the meaningless social media battles with fans and opponents:
"I've been immature – I've gotten in a back-and-forth before, then I go back and look and think, 'Why would I do that?' " Reader said. "But I haven't done that in a long time…
There are people out there just trying to mess with you, so I don't do the back-and-forth's anymore. Tempers can flare, and if you lose a game, people are moaning and groaning at you, so it's good that you can't reply because most people reply with their emotions and don't think before they type."
How to ruin a reputation
It is easier than ever for an athlete to ruin his or her reputation. In ancient times (about 15 years ago!) we really didn't have the concept of what we now call social media. It is a form of communication that is "addictive" and also instantaneous. Though we all use it, we sometimes forget it is virtual. We often have no idea of who is posting, tweeting or commenting.
If a 105 pound woman living in Taiwan wants to pose as wide receiver for a University in California, telling a 320 pound DT for a school in South Florida that he stinks, it is easy for her to do so. We can go on and on with examples.
In responding to ridiculous comments intended to "rile" or demean, it is not the jerk who "launches the missile," as much as the athlete, coach or sports executive who responds. The athlete, like it or not, is a public figure. An angry fan can hide in any virtual shadow he or she creates.
It is even more ridiculous when one athlete "attacks" another via social media. Given the thousands of followers on both sides, the only thing that is accomplished is a meaningless virtual war that erodes reputation.
Because we never know who is really following us, or re-tweeting us, or forwarding us, a stupid comment is just as likely to show up in the account of an interested scout or potential agent or AD or association executive as it is to the account of a 14 year old kid sitting on the couch in his basement.
Just because they tell us, it's not so –
It may run contrary to what we "believe," but articles have appeared that tell us that smartphones are not physically, so much as psychologically addictive. The constant need to check social media is not the same as drug or alcohol abuse. True, it's been estimated that 1 out of 8 smartphone users may need intervention (a scary number), but for most of us, shutting the phone off, and not checking our social media accounts every few seconds will not cause us to go into "shakes and sweats," nor will we hallucinate or want to do damage to ourselves or others.
I am not advocating we quit social media! I am only saying that life will go on if we put down our devices and instead of posting, tweeting and re-tweeting, that we also focus on living or pursuing things that are important to us – like playing sports and not making fools of ourselves by responding to negativity.
One of the most valuable assets any athlete has is his or her reputation. Clemson's approach is refreshing; more than that, it is wise and ethical in its protection of its players.