Rodney Austin was one of those bubble players, shuttling back and forth between the Detroit Lions practice squad and the active roster for the past three years. When he came into the league in 2012, he was undrafted. He is reputedly a very strong player, and that is what impressed everyone. He was also a Left Guard on a team that needs Left Guards.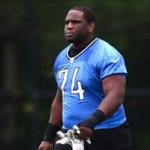 He was not strong enough to realize how hard he needed to work at his craft to keep his head above water, and he was not strong enough to understand that his bad choices would lead to bad consequences.
The Lions have just cut Rodney Austin; now he is an unemployed LG not even at the margins of the NFL.
Josh Katzenstein, writing for The Detroit News (April 21, 2015) states:
According to online records from the Mecklenburg County Sheriff's Office, Austin was arrested (April 17, 2015) on four misdemeanor charges: assault on a female, assault on a child under 12, larceny and interfering with emergency communication…
Austin was released on a total bond of $4,250. A message left with the sheriff's office seeking more information was not immediately returned. Austin has a preliminary hearing scheduled for June 5 at the Mecklenburg County Courthouse, according to the clerk's office."
The Lions have a zero-tolerance policy toward domestic violence as do many other teams. I wasn't in the home the night of the assault and larceny, but he seems to have done the old 1-2; a Ray Rice and an Adrian Peterson on the same night.
Save your excuses; this is 2015
Once upon a time, once way back upon a time, these kinds of incidents were swept under big rugs. "Team enforcement" and guys with slush fund money could once-upon-a-time smooth this sort of stuff out. The times have changed and the stakes have changed, and that's a good thing. I wasn't in the home that night, and neither were you, but what I do know is that the NFL is extremely concerned about its image and in a way, its product is its image.
Despite the prognosticators at ESPN or Fox Sports, the AFC will not be brought to its knees if the Buffalo Bills play the Jacksonville Jaguars in the playoffs; but let a player for either team beat up his spouse—and then have a team try to cover it up until after the game, an explosion will be heard throughout professional football that will make the Rice incident fade to small potatoes.
The question is not so much one of "why" was Rodney Austin thinking that way, that night, but "what" was he thinking? He is about 320 pounds and stands 6'4." He is not a "fat" 320; he is a powerful human being. In what universe did he need to assault a mom and a child under 12 to get a point across?
However, even that is not the issue. The issue is ethical behavior. He had several choices and he made the wrong choices. There were all kinds of behaviors he could have chosen. Of all of the choices, he chose the worst.
Sports ethics could have taught about off the field behavior as opposed to on the field behavior; sports ethics could have given him a framework in which to make good choices in the moment.
For now, the bubble has burst and he is down and out of a job. I don't know if he will get another shot. As always, I take no joy in seeing an athlete cut from a team for a lousy choice. I believe in second chances if he deserves one.
While I am hardly a line coach or a defensive coordinator, what I teach could have helped prevent what has happened.