The book reviews 23 of the most "famous" sports scandals over the past 65 years. We give a detailed history for each scandal and then Chuck Gallagher, one of the nation's leading ethics experts and sports ethics keynote speakers, discusses each case from an ethical perspective. Each example serves as an important lesson but more importantly it stirs conversation.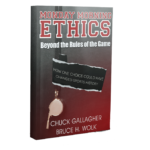 Whether you are a D-I athlete, coach a MiLB team, play high school sports or are a member of an association or conference, each case is bound to cause meaningful, ethical discussions between you and your peers. By the way, Chuck's "voice" in response to each scandal is direct, plain speaking and honest. He doesn't hide behind a lot of "HR words" or thick textbooks!
We will make the book available through the usual websites such as Amazon, of course, but also at a much lower price to programs, teams, schools and collegiate courses teaching Physical Education and ethics. OK, that's it for the commercial.
Now for a few, important observations:
At the core of it all, in analyzing scandals in the book from 1950s point shaving to Pete Rose to Tonya Harding to IOC bribes to SMU's "Death Penalty" and beyond, we attempt to answer an important question, the question of why should we care about sports ethics?
Certainly a professional athlete might think, "I'm a defensive end or a forward or goalie, I am making a lot of money and have many endorsements, why would I care about sports ethics?" Or, "I am the coach of a winning D-II team, why should I care about making good choices?" Or, "I am the director of a conference with a staff of 20, what does sports ethics have to do with me?"
The answer to those questions – and many more, is that sports ethics has everything to do with you, your team, your association and even your sport.
In every case we detailed, we found the following:
Loss of reputation – No player, team, coach or association ever emerged from a scandal with an intact reputation, whether Ray Rice or Ryan Lochte or teams embroiled in Spygate or a Bounty Scandal. Though the PR machines for such entities try mightily to put unethical behaviors behind them, the behavior is never fully forgotten.
Never quite recovered – After making unethical choices, no athlete or coach ever fully recovered his or her reputation. Bad choices always lead to bad consequences.
Loss of salary and sponsorships – A major ethical mistake always leads to firings, salary losses, loss of promotional dollars, and loss of a broadcasting careers after sports, appearance fees and on and on. In dollars and sense, unethical choices cost athletes and coaches in more ways than one.
Second chances – Though a basic tenet of sports ethics includes the idea that most everyone deserves a second chance, the actual recovery from that second chance never quite seems to elevate them to where they were before the fall.
Legacy – A tarnished player or coach or association leaves behind a tarnished legacy. Like it or not, men and women in sports who are even perceived to have exhibited unethical behaviors leave doubts behind them, even people as great as Joe Paterno or Alex Rodriguez.
The book was a joy to write and more importantly, it is a joy to keep people from making foolish and unethical decisions.
For more information:
Sports Ethics LLC
Tel.: (828) 244-1400
Email: Chuck@sportsethics.com
Website: www.sportsethics.com