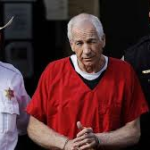 On Sunday, January 18, 2015, the same day deflated footballs were being thrown around a rain-soaked field in Foxborough, Massachusetts, Roxanne Jones, a very fine writer for ESPN, wrote a very fine piece entitled: "Penn State still doesn't get it." The article resonated so nicely with what we stand for at Sports Ethics that I wanted to share it with you.
Unless you were out of the country, with no access to media, you most probably remember the twisted, vile case in which a former Penn State coach, Jerry Sandusky, was found guilty of raping 10 young boys. In some cases, he committed this act in a Penn State locker room, even after he was terminated from coaching, under the very nose of Penn State coaches – one of whom caught him "in the act" and did virtually nothing.
Joe Paterno, the iconic head coach of Penn State knew for quite some time (maybe as much as a decade) that Sandusky was at best improper. Many felt he knew much, much more and ignored it. As the awful truth came to light, and the fact that those in charge swept Sandusky's crimes under the rug, the NCAA came down on Penn State like a ton of bricks. And well they should have.
In addition to a $60 million fine and a 5 year sanction, the NCAA stripped Penn State of it wins.
According to Ms. Jones:
"In an attempt to restore the university's reputation, Pennsylvania state officials led by Senate Majority Leader Jake Corman and state Treasurer Rob McCord, filed a suit against the NCAA. They wanted all sanctions the NCAA placed against the school be lifted. The NCAA had reached beyond its authority in punishing Penn State, they argued.
In other words, their lawsuit had nothing to do with the boys who were raped or abused by Sandusky. It had nothing to do with the fact that head football coach Joe Paterno, who died in 2012, and others at the school had been alerted to this abuse as early as 1998 and did very little to make sure it stopped. Nope, Corman and others wanted redemption for Penn State, based on a loophole over the authority of the NCAA to punish the football program."
The NCAA, as weak as the leadership in the Penn State football program during the Paterno-Sandusky years, restored the games it had removed from the Paterno legacy.
Politicians and other idiots
I am not sure how or why Senate Majority Leader Jake Corman and state Treasurer Rob McCord managed to insert themselves in this process. Nor am I quite certain how or why the NCAA ran away from their ethical responsibilities. I am also puzzled as many alumni and students were dancing in the streets when the news of the NCAA's decision came down.
Ms. Jones states:
"We teach our kids when they do wrong to face up to it, take their punishment without complaint or excuses and move on. Then, go out into the world and show everyone you are better than your lowest moments. It takes courage, integrity and leadership. That is what Penn State needed to do. And so, for me, this is not a proud day for Penn State."
She could not be more correct.
The politicians enabled the university to restore their wins at the sake of the 10 innocent children that Sandusky violated (plus, as we have learned, his own step-son). Somehow the students, fans, alumni, athletic department and many others at Penn State felt entitled to the wins and nothing was more important.
Choices without consequences
The NCAA in caving in, the politicians in their bluff and bluster, the friends and fans of Penn State believe they have somehow won a victory. The politicians said the NCAA over-stepped their boundaries; I say the NCAA did not go far enough.
In reality, this reversal has shown that the lives of the boys, now young men, who were ruined by this system, do not matter. The record books were more important than doing what was right. To say that Paterno was history's most winning coach, is more important than the university paying the consequences for doing nothing while these children were being abused.
In an era where the all-powerful NCAA fines athletes and programs for some of the most nit-picky, idiotic violations imaginable, they completely ignored the need to do the right thing for the sake of window-dressing. I could care less about Penn State's image; they needed to pay the ethical price.
We can return to deflated footballs most any day and in time, no one will remember the incident. Or, it will become a joke. The young boys whose lives were ruined will live their nightmares for many years to come.