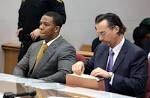 The news of the day is that the domestic violence charges against Ray Rice, former NFL running back have been dropped. What began in February 2014, has come to an end on May 20, 2015.
Many things have happened in the past year plus three months; a great many of them much more important than football or even sports. However, within this small world it can be argued that the former Baltimore Ravens player brought many people face-to-face with the ugly face of domestic violence and the indifference of those within the NFL toward violent crime.
The "tape" will forever be iconic; it shows a man punching a woman unconscious in the elevator of a casino in Atlantic City. The man then drags the woman out of the elevator as though she was a side of beef.
NFL Commissioner Roger Goodell, a man who makes more in one year than most of us will see in our lifetimes, gave the abuser a two game suspension. At first, Goodell claimed he never saw the tape. Then after he saw the tape, he suspended Rice indefinitely.
Lawyers love these legal battles and so do players unions. They surrounded the case with an extra coating of legalize and slime.
Incredibly, Ray Rice filed a grievance against his former team. In his mind (meaning the minds of his legal representatives) he filed the grievance for $3.5 million saying in essence, "Hey, you gave me a two-day suspension before you saw the tape and then you gave me another suspension after you saw the tape. You can't punish me twice for the same crime."
Oh, but they did.
Rice had to settle for a measly $1.6 million, give or take. In addition an arbitrator lifted the indefinite suspension because of the double suspension. He was free to play again.
Then after a court appearance in May 2014, Rice agreed to a pre-trial intervention program. He would see a therapist. However, he also claimed that he was not guilty of third-degree aggravated assault. For the past year Ray Rice has undergone counseling. He married the woman in the elevator, who he allegedly didn't assault.
To sum up, Rice will not go to jail; he apparently did not assault the woman who became unconscious in an elevator; he got married to the unconscious woman; he is free to play again; Goodell kept his multi-million dollar job and Ray Rice won a $1.6 million settlement on top of his $14 million personal net worth.
What did I leave out? Oh yes —
Atlantic City Judge Michael Donio signed an order on Thursday dismissing the charges. Ray Rice's arrest remains on the police record, but there will be no conviction. It is almost as though nothing ever happened.
What has been left out is that despite all of the feel good news, during the free-agency frenzy Ray Rice did not get a second glance from any team. To this date he has not gotten an invitation, telephone call or plane ticket. At this point, no one wants to go near him.
Could he get a second chance? Of course he could. Should he be given a second chance? I doubt if any team is seriously mulling such a risk. Let's not deceive ourselves; he was a great running back whose numbers were falling. He will soon be 29.
People have memories; people being anyone who believes domestic violence is wrong, have a problem with him. What NFL owner is willing to take the chance?
While second chances should be given to almost anyone who seriously deserves a second chance, it is hard to make the case for Rice. He has not really admitted his guilt; he has been protected by an army of apologists and lawyers who "want to put this behind them."
Rice made a really bad decision and those closest to him have done everything in their power to minimize or erase the consequences. It does not work that way; not now, not ever. There were many things he could have done to help his reputation other than the legal dance. He chose the dance.
Though he has not been invited to try out for any teams, he has received an offer: a pro-football gambling site wants to pay Ray Rice $1 million to be their gambling "insider." Of all of the offers he could entertain, this is close to being the worst possible choice.
Ray Rice is going back to the casino.