Yes, I know that Floyd Mayweather is undefeated, but Muhammad Ali, Rocky Graziano, and Sugar Ray Leonard were not – and you've got to admit they were pretty fair boxers. Peyton Manning lost last week and he was taken out of another game this week. Michael Jordan was super-human in his prime, but eventually he quit because his skills had diminished and Abby Wambach gracefully bowed out because her body told her it was time to leave.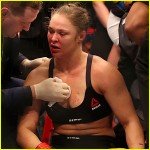 Ronda Rousey lost to Holly Holm. It was an upset, but it was not because Holly Holm was so without skills and style that she had no chance of winning the fight. Holm is a boxer and a very good one, who has been honing her martial arts skills for years. She was/is not a "tomato can" as the saying goes, she deserved to be in the ring. She used her skills and defeated the champion.
Buster Douglas once defeated Mike Tyson and Buster Douglas has become a kind of a joke because he never did much after that, except that Tyson was never quite the same. However, on that night (February 10, 1990) the 42-1 underdog gave Tyson a beat-down. Rousey was "only" a 10-1 favorite.
To hear the comments spread across the media, Rousey's fame and fortune, her movie career and her endorsements, suffered so badly after the loss that she might as well quit the octagon and go to work for Walmart as a checker. To hear the media rant is also to believe that Rousey's single loss will cause the entire sport of MMA to spiral into oblivion.
MMA is a niche sport; then again so is Lacrosse, the WNBA, arena football and Ultimate Frisbee. They all manage to survive quite nicely. Ronda Rousey doesn't need me to say this, but she will be fine. If the MMA disappears because of Rousey's loss, the sport has much bigger problems than can be listed here.
Not a robot
Our society is obsessed with winning. That is why we have coined phrases like, "Second Place is the First Loser." Conversely, it is why parents insist on giving every kid a participation trophy; we hate to tell children they lost, as though the very fabric of their souls will unravel if they lose an "important" Pee Wee soccer game.
Ronda Rousey is a magnificent athlete at the pinnacle of her career. Many companies have thrown money at her; up to $10 million a year. She is being touted as the next Dwayne "The Rock" Johnson, a man who has enjoyed tremendous success as an actor, producer and as a former professional wrestler. He has been charitable and has given back to the community, especially in regard to the treatment of pediatric diseases. As great as he is, on an athlete to athlete basis, I would give the nod to Rousey as being the better athlete of the two.
Before the successes and the acclaim, Rousey was trained as a martial artist. She understands both winning and losing. She understands victory and humility as does any other athlete who has ever played any kind of game. Perhaps she understands it more.
It has been suggested that the one loss, could diminish her earning potential and two losses could be catastrophic. I disagree. She is in a very tough sport, arguably the toughest. She knows what everyone who plays any kind of sport knows: if she stays in the ring long enough, she will lose. It is the cycle of life. She is not a robot. She is very human. She wants to take a break from the ring and make a movie. She should. She should use the platform she has created for herself and capitalize on it.
The shame game
Whether Rousey is viewed as the savior of MMA, as a less than perfect fighter, as an aspiring actress or a spokesperson for a variety of products is ultimately hers alone to decide. The same hype that was throwing rose petals at her before her loss was throwing something else at her as she sat dazed on the canvas. Fighters lose. Athletes grow old.
She will obviously be pressured from many directions to take the re-match, and if she wins, what then? Should she start another streak? If she wins and then walks away, will the hype-machine blast her again for ducking other opponents?
Rousey is 28, and into the fight, she was 12 – 0. Should she fight another 12 opponents? That's a lot of gym time, a lot of punches and a lot of injuries. She has a good shot at an acting career, if that's what she wants we should let her have it.
It is downright unethical for people to live their dreams through an athlete who will take the pounding for them.