The Seahawks organization is apparently having a problem with Russell Wilson. The word that has come down is that Wilson has become a "celebrity." I have no idea what that means. It is like saying that every other franchise quarterback in the NFL is meek, quiet and invisible and only Wilson endorses products and has a good looking girlfriend.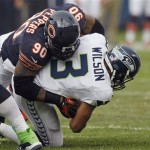 What this is about in our estimation is 4-5; the record of a team that is currently languishing in mediocrity. The organization has determined that if Wilson was back to making the chump change he was making, and if the woman he was dating looked as though she belonged in a carnival side-show, and if his endorsements consisted of a Seattle fish market and a dog-poop pick-up service, they would be 9-0.
Let us first be clear about something: as a society, we have become plain celebrity crazy-nuts. Whether they are athletes, reality TV stars, singers who cannot carry a tune without assistance or actors who cannot stay out of rehab, we are plain screwy celebrity nuts. It is easy to go down the old road saying we should idolize teachers, nurses, firefighters and soldiers, but we all know that won't happen. Save the sentiment.
You see, there are no publicity machines focused on elevating teachers or paramedics or community leaders, but there is a multi-billion dollar industry attached to our athletes. With all due respect to the Seattle organization, you are part of the problem. He made you plenty of money now pay him and be happy with it. You created the Russell Wilson persona and that's just the way it goes.
I just had a minor medical procedure and the nurses who cared for me, melted my heart with their kindness and competency. They didn't have a PR agency behind them, they didn't have hooded sweatshirts for sale and they are making way less than they should be making. Tomorrow these same kind souls will be tending to other patients, and that's the way it goes as well.
While Russell Wilson doesn't do much for my heart, I must admit, he is very competent. As competent as he is, he cannot keep linebackers out of his face on his own, he can't catch his own passes and he cannot block for his running-backs. So if the organization pushing his image out to tens of millions of fans is also blaming him for a lousy record, maybe they should all get an attitude adjustment over five or six of their overpriced beers. While you're at it, draft better and play the free-agent market better.
The Russell Wilson I Know
No, I have never met Russell Wilson. I just know what I have heard and what I have observed. I "know" a Russell Wilson who has spoken out against bullying, who has spoken out against domestic violence and a Russell Wilson who showed kindness to veterans. Russell Wilson has been extremely sympathetic to children in cancer treatment and he has raised hundreds of thousands of dollars for cancer cures. He reputedly has a very good work ethic and he is a man of faith. I believe he is thankful for the abundance that has been given to him. In the world of fame and celebrity, he is not too big for his ethics.
Ah, but here is the difference: Russell Wilson demanded – and received – a huge contract. Now, the same organization that elevated him to hero and celebrity status, thinks he is too big for his own good because his team is 4-5. Something is ethically wrong here and I don't think it's the quarterback.