Always strange to us how we can connect dots to seemingly different, but connected sports stories on any given day. On this date (March 3, 2016), there is a movement afoot to eliminate the chop block (sort of a simultaneous high and low football block that can crush a career), along with the Ivy League wanting to eliminate tackling in practice, plus soccer legend Brandi Chastain volunteering to donate her brain to science for CTE research.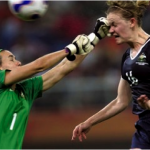 The chop block is not without its share controversy, but it does highlight the violent nature of football that has been swept under the rug for many years. The Ivy League's move reflects the desire of that particular league to cut down on the likelihood of concussions in practice. We are not sure how the absence of practicing technique will help, but that is for a coach to address, not a Sports Ethics blog. Finally Brandi Chastain is underscoring another dirty little secret: concussions are also a problem with soccer. Sorry, soccer moms, but do not believe that soccer = absence of injury or CTE for that matter. Some soccer players have suffered brain injuries. Back in the days of the dinosaurs when I was playing soccer, I suffered two concussions in practice and saw several teammates get concussed and even knocked out.
No, we cannot protect athletes from every possible injury. The nature of team sports is such that head injuries happen. However, professional football is at the top of the list; they are the leaderboard of traumatic brain injuries, followed closely by collegiate programs.
What the NFL is focusing on today
It was pretty strange to us that with all of the news in regard to head injuries, once again the NFL is redoubling its efforts to turn its attention to a two-year old plus non-issue that could not be proven in court. The NFL lawyers are once again in the federal appeals court in New York to exact its pound of flesh and reestablish the Deflategate suspension it gave New England quarterback Tom Brady. As you will recall, it was a four-game suspension.
The NFL failed in their suspension attempt the first time around. This time, they are hell-bent to revisit the scandal in a higher court and make it stick. Maybe they will be successful this year and maybe they won't. The case is pitting the NFL against the NFLPA. There's a lot of ego and power involved and there's a ton of money. Roger Goodell is management and Robert Kraft, Bill Belichick and Tom Brady are those responsible for the product on the field. They are all millionaires many times over. They can buy things most of us can only dream about.
What they can't buy is the brain of a practice team player making the league minimum. Ethically it is bothering us.
What we want to hear
What we want to hear is the progress the NFL is making into the entire area of brain trauma. Is there, or is there not a serious problem? Has there, or has there not been any progress? If there is a problem, what can be done to make the game at the professional level, safer?
All those "generational" commercials are cute, but they don't solve the problems. The commercials are meant to get more butts in the seats, but they don't do anything for a retired player who can't remember his name. The NFL had no problem remembering the Deflategate scandal two and a half years ago, but it does not seem to remember the Concussion movie of about six months ago.
Do not look to us to bash the game of football. It's a great game. Our concern is the apparent lack of concern. If there needs to be a radical change to the equipment, rules, practices or any other aspect of the game, put it out on the table, and put the best people you can find on fixing the problems.
We are not Patriots fans, we are football fans. The NFL messed up their investigation of Deflategate scandal and that's the way it goes, but don't allow pride or ego or greed to get in the way of making your players safer.
For more information on Sports Ethics LLC or for media inquiries:
Chuck Gallagher, President and Co-Founder   (828) 244-1400