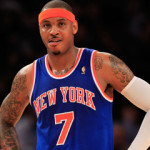 We read about it just today. Carmelo Anthony wants to have a hand in choosing the next coach for the New York Knicks. Now before going any further, I will acknowledge that the NBA is unlike any other sports scenario. There are so few players, there are relatively few teams and then there's the money. Lots and lots of it. The star players are wealthy. They live in wealth, spend that wealth and have luxuries that few of us have ever experienced. Carmelo Anthony is one of those guys. He makes about $22 million a year.
Anthony has been in the league since 2003. I saw him in action when he was a Denver Nugget (I live in Denver), and I watch him on television as a Knick. I am not as qualified as many of you to evaluate his current level of basketball skill. I only know that when he played for the Nuggets (2003 – 2011), the team managed to make it to the playoffs nearly every year. They never got deep into the playoff picture to be sure, but they were there all the same. The team hasn't done much since he left. The Knicks haven't done much since he joined. Then again, I'm so old school, I measure every Knicks team against Walt Frazier, Willis Reed and a very young Phil Jackson. Still, his point production remains "high," but whether the production is having an impact is debatable. It has always been debatable.
Now Carmelo Anthony, on the slow downslope of his career, wants to have input as the Knicks choose their next head coach. Ethically, this is not such a simple decision.
How much input is "input?"
Our usual model, starting with Pee Wee sports and elementary school is that players need coaches. As great as he is, without coaching Carmelo Anthony would have never made it to the NBA without Jim Boeheim at Syracuse, and a long line of coaches who worked with him at Towson High School and Oak Hill Academy. He did not pick one of them. They picked him. They saw greatness in him. They nurtured him. But you also want to be nurtured.
It is no secret that Carmelo wants no part of Kurt Rambis or Phil Jackson either. He was neutral about Derek Fisher. Carmelo Anthony didn't much care for George Karl when he was a Nugget. He is not an "I want coaching" sort of a guy.
Who would Carmelo Anthony like for a coach? And if I am management, why would I care? It is a valid question. If I am Knicks management, I am looking at the fact that my team is currently 13th in the Eastern Conference standings. They are 25 games back. In fact, the Knicks have been lousy for several years even with my $22 million a year man. Were all the coaches bad? Every one of them? Or did some of the players fail to understand what it takes to win? Carmelo has hinted that he wants out. Where would he go? Would he go to a team that will allow him to pre-approve any coaching hires?
Here's another interesting line of ethical thought. If I am Carmelo, and I offer my input on a coaching hire, is my "approval" also valid to helping a rookie develop? What we are suggesting is if Carmelo "likes" a certain coach who has been criticized in the past for not bringing along young players, is Carmelo throwing the team under the bus for his own comfort?
There does come a time in every career where age begins to yield to ability. It is a cycle of life thing. So if I am Carmelo, and I want to pick the next head coach of the Knicks and my career legitimately has a couple of years on the clock, isn't that being just a bit short-sighted and selfish?
Does Carmelo really want a coach? Would he listen to a coach? We don't know. Year after year, Carmelo has scored a lot of points, he has seen many coaches and not once did his teams make it to anywhere near the Promised Land.
Many of you folks know a lot more about basketball than I do. However it occurs to us that Carmelo Anthony might benefit from a lot less "inputting," and a lot more coaching. What do you think?
For more information: Sports Ethics, LLC
Chuck Gallagher, President (828) 244-1400