Title IX, if I am not mistaken, is now more than 40 years old. Time does pass quickly, and it was legislation that was needed decades before. However, I wonder if all the underlying attitudes have really changed – or if sometimes, coaches and officials are still more inclined to pat women and girls on the head instead of letting them play.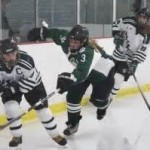 For this blog, I draw upon a thought provoking article by Cam Smith for USA Today (March 10, 2015) entitled: "Disconnect emerges in Connecticut girls hockey title game fiasco."
The occasion was the girl's hockey championship between Simsbury and East Catholic/Glastonbury/South Windsor (known as ETB) hockey teams who are part of the Fairfield County Interscholastic Athletic Conference (FCIAC).
By all accounts, it was a great game; a phenomenal deadlocked game that went into overtime after overtime. As the overtimes wore on, the officials decided to proclaim both teams' co-champions rather than let them play the game out until a winner was decided. From the article:
"In an interview with USA TODAY Sports, New Canaan High School girls hockey coach Rich Bulan, who serves as chairperson for girls hockey, said the decision to proclaim both the co-state champions was made entirely for the perceived benefit of the players…
What we saw was that those girls had played almost two full games of ice hockey, they were exhausted and killing each other out there. No one should have lost that game. It was a great game. After a game like that, who wants to get on a bus and go-home a loser?"
Apparently, the girls themselves did not want it to end. Who can blame them?
"'On the bench I asked my assistant coach near the end of the second overtime, and he said that we keet playing,'" East Catholic junior forward Maddie Bishop told USA TODAY Sports. "'We both played hard and were exhausted, but I know both teams would have wanted a better ending than happened. In sports there's always one winner and one loser. That's just how it is.'"
Everyone wins; everyone gets a trophy
Both teams were willing to play until someone dropped and one of the girls put a puck through the pipes. The organizers apparently conceded that had this been boy's hockey they would have kept both teams on the ice. This was somehow different in their minds. The girls are even willing to play a make-up game; to start over, or some variation thereof. It doesn't appear likely.
The girls expected the game would follow the boy's hockey rules. It didn't. It followed its own made up set of arbitrary rules. There is one more point here that deserves mention: that the game may have been ended prematurely because the boys hockey teams needed the ice next. It is rumor and so I had better not go down that road — yet!
I have been a critic of the age of the helicopter parent and of the philosophy that everyone wins, everyone gets the first place trophy. There comes a point in life where children must transition into young adults. The playing field is not always level, life is not always fair, mistakes happen and life goes on.
Parents have no business showing up to their kid's job interviews, a team that kicked its butt over countless practices should not settle to win the same trophies as the last place team; adults cannot save their children from feeling pain or hurt.
What we can do is to make sure the girls on the ice or off of it, are treated respectfully and allowed to grow into adults.
Had the game gone on, one or two overtimes later, one of the teams would have won. It would not have plunged the losing team into the depths of depression. There would have been tears, and hugging, and as I said, life would have continued.
The championship game became no more than a pat on the head.