In late breaking news reported by Zach Osterman for USA Today Sports (November 1, 2014), "Indiana's Devin Davis hit by car driven by teammate," we learn that: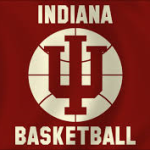 "Indiana sophomore forward Devin Davis was injured in an accident with a car driven by teammate Emmitt Holt early Saturday morning, according to a news release from the program. Davis is currently listed in serious condition… Holt, 18, had a blood alcohol level of 0.025, according to the release. He was cited for illegal consumption and operating a vehicle with a BAC above 0.02."
The nature of the accident was somewhat bizarre in that Holt had dropped Davis off, and then for an inexplicable reason, he came back into the lot the wrong way and that is where the accident occurred. The nature of the accident may be bizarre, but the accident itself is no different outcome than any other drunk driving accident that should not have happened.
One more item from Mr. Ostermann's story:
"Saturday's incident marks the third time [my italics] an Indiana player has been in trouble with the law since February, when forward Hanner Mosquera-Perea was charged with OWI and Yogi Ferrell and Stanford Robinson received pretrial diversion for illegal consumption and having fake IDs in April."
Teens, a big time program and alcohol
This is not going to be a public service announcement for drinking and driving. I imagine Holt might have had a beer or two ("Buzzed Driving") and thought he could handle it – or get away with it. He didn't. The legal drinking age has been changed in Indiana to 25.
Like it or not, the State of Indiana does not want people to die in alcohol-related accidents nor does it want a buzzed teenager to make a dumb move in a parking lot. It also means that someone either bought Mr.Holt the liquor illegally, or he had a fake ID.
I pray, of course, that Devin Davis is OK.
It is not that I am overflowing with charity when I say this, but I am not going to yell and scream at Emmitt Holt. He is 18 and he has learned an unforgettable lesson about choices and consequences. I am sure the university will come down hard on him. He will deserve a second chance.
I will turn my attention to Indiana University. It is the university who needs to answer a number of uncomfortable questions. Before I talk in specifics, I am aware of all of the kind words about the team coming together over this. The sentiments are all nice and polite and expected. I am quite sure the PR staff spent hours on this.
As opposed to my kinder gentler approach toward Emmitt Holt, I would like to rip the IU athletic department "a new one." It is obvious to me that there is an alcohol and disciplinary problem within the department. It is even more obvious that ethical training at the university that is meaningful and impactful is about as rare as an artichoke plant in an Indiana cornfield. Somewhere along the line the student-athletes have been led to believe that consequences for dumb choices are a joke. No one should be laughing now.
Why I do what I do
My story has not been hidden and my story should be a lesson for every kid in every sports program.
A great many years ago, after thinking I was slick and clever, I made some bad choices. I was a mediocre athlete, but I had been a rising star in business. I had been at the top of my game. After being caught, I lost friends, family, business associates, prestige, money, livelihood and my freedom. I was sent to jail.
It was in jail that I finally hit bottom and I had no choice but to turn my life around with the help of some very good people. For nearly 20 years I have taught ethics. I have dedicated my life to helping others, both collegiate and professional.
When I talk to athletes, coaches and organizations I sugar coat nothing. I do not read from a boring textbook. I do not go into a hand-wringing psycho-babble bunch of case studies. I talk plain and to the point.
Every choice has a consequence. If the IU athletic department doesn't live it and breathe it and let it become part of their ethical muscle memory in my opinion, they are failing every athlete in the school. I wish absolutely no one ill-will, but I feel this situation is ultimately in the hands and on the hands on the administration.