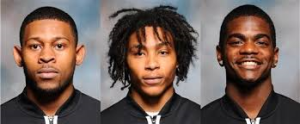 Prior to my sports ethics and business ethics work, I had a strong background in finance, accounting and marketing. I was a rising star in finance and accounting. I was more highly educated than most my age and I saw the many opportunities that were in front of me. I saw the ways to reach the top ethically and I also saw the ways to reach it unethically.
I was a stupid. I thought I could play it loose with other people's money. I committed fraud. I made some very bad choices. It cost me everything. It is no secret; I spent time in jail.
I had to re-build my life by finding the ethical path and taking the long road back. When I talk to athletes about making good ethical choices, I don't drone from a boring textbook. I talk to them like men and women; I talk real and I talk from the heart. If you make a bad, off the field choice, it is going to take a very big price.
Oh yes, one more thing: sooner or later, anyone who plays it loose with other people's money will get caught. Trust me, it will happen. If it happened to me, it will happen to a collection of inexperienced kids who have no concept of the sophistication that government agencies can bring to the table.
Regina Garcia Cano, writing for the Associated Press (January 10, 2015) detailed a highly interesting tax fraud scheme: "College athletes ran tax-refund fraud scheme, netted $400K."
The case involves tax fraud of more than $1 million:
"Six people involved in the complicated scheme were USD [University of South Dakota] football players at the time, and another had once been on the track and field team and impeached as USD's student government president over allegations of misused funds. But for the hundreds of thousands of dollars the group collected, the school's athletic officials were never suspicious of any extracurricular activity."
The ringleader, Alphonso "Rico" Valdez, managed to recruit 11 other people:
"All 11 involved have pleaded guilty to federal fraud charges in Sioux Falls. Valdez, the 23-year-old ringleader, and a co-conspirator are to be sentenced Monday [January 12, 2015]. Those already sentenced received prison times ranging from 2 years to more than 5 years and all but three were ordered to pay $422,000 in joint restitution."
Valdez recruited the 11 people to gather information on unsuspecting people. For example Valdez' girlfriend was employed by an insurance company and she was able to retrieve 30 Social Security numbers. They used the stolen data to file fake tax returns. However, they put in different addresses so the refunds on preloaded cards would come to them and not to the people who had suffered identity theft.
"'They had to get these (returns) submitted before the real person could submit it," assistant U.S. attorney John Haak told the court during Dinataly's [Valdez' girlfriend] sentencing hearing in June. 'If successful, this thing would have gotten much bigger than it did.'"
Said the University of South Dakota Athletic Director:
"'I'm not even sure that any of them had a car while they were here, and if they did, it probably wasn't a nice one,' USD athletic director David Herbster said. 'They didn't exhibit anything that you would be overly suspicious of as far as somehow coming into an excess amount of money. There were no really nice cars, there was not a lot of fancy clothes, fancy jewelry things like that that would lead you to believe, 'How did you get that?'"
In all, the athlete's crime ring was able to net in excess of $400,000.
"Valdez's goal is to become a high school football coach and show children that they can 'further their education' despite mistakes they may have made, he said during an October hearing. His ex-girlfriend told a federal judge that 'nobody deserved' to be defrauded.'"
Paying the price
Valdez, like so many others, seemed to have taken the position of "I want to put this all behind me." It is a term we hear more and more in today's society. Before we can put anything behind us, we must pay the price for our mistakes. Not so fast. In the most recent update of the case, Valdez was sentenced to five years in jail and his girlfriend to two years. Five years in a federal jail cell gives a person plenty of time to think.
Valdez has obviously lost a girlfriend, friends, the respect of his teammates, his former coaches and the athletic department of the university. It is "nice" that he wants to be a high school coach, but first he must get over the stigma of being an ex-convict. Many school systems take a dim view of ex-con's teaching their kids. His choices may prevent him from ever seeing the inside of a public school.
He managed to not only pull himself down, but 11 other people. This is the power of a bad choice and its consequences.
There are always second chances, but first he must pay for the crime of his ethical mistake. It is a shame that no one with real experience in understanding the true meaning of choices and consequences was able to reach him.