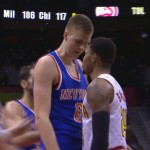 Sports Ethics is not about taking easy paths. It is not about political correctness, looking for controversies that aren't there, or claiming outrage where it does not exist. Sometimes there will be a "huge incident" in the world of sports that everyone is talking about and Chuck and I will instead choose to post blogs or write articles about (seemingly) minor incidents that appear as little blips running across the media radar screen. Why don't we always go along with the crowd? Because sometimes we need to look behind the stories to arrive at certain ethical truths.
 Kristaps Porzingis plays for the Knicks as a forward/center. He is 20 years old and he is from Latvia. The young man is 7'3" and weighs in at a modest 240 pounds, though he is still growing. He is in his rookie year and his stats are decent considering that he is still developing as a player with an average of 13 points per game and around 8 rebounds.
 Forward Kent Bazemore plays for the Hawks and he is 26 years old. He played his college ball at Old Dominion, and in his third year in the NBA he is averaging about 13 points per game as well. He is 6'5" and weighs about 205 pounds.
 So I was wandering around the internet and saw a picture of Porzingis and Bazemore, chest to chest (kind of) with Porzingis staring down at Bazemore. He had an angry look on his face. It was a kind of funny image to me and for starters you've got to think, "How tall do you have to be to stare down at a man who is 6'5"?" Then I wondered what it was all about. I figured it was a beef between players from opposing teams.
 What I wasn't thinking was: "Oh, this is a racial incident and this is going to lead to some kind of racial blow-up!" I asked Chuck about the image. He saw the same thing that I saw.
 For background, Bazemore who is Black, was trying to wrestle the basketball away from Porzingis who is White. This is what happens in the heat of the moment in a basketball game. One guy had the basketball and the other guy wanted it. So the grabbing and pulling led to flaring tempers. Porzingis got in Bazemore's face and then other guys who were teammates of the two started to jaw about it back and forth. Carmelo Anthony, who is Black and a Knicks star, jumped in the middle to defend Porzingis. It is what teammates do for one another.
 So the next day
 So the next day, articles started to pop up about how this confrontation had Black & White (racial) overtones. One media source alluded to the fact that for a few minutes the world went "black and white," and even the great Spike Lee, perhaps one of the greatest Knicks fans of all times, said in another article: "He ain't scared of the brothers." Chuck and I are sitting there discussing this and wondering, "Where does this stuff come from?"
 Look, no one, least of all Chuck Gallagher and myself, are marching through this world with blinders on our faces. There are many problems we must all deal with and many problems we need to fix in this world, but seriously does every damn thing need to be elevated?
Altercations, physical and otherwise, occur in almost every sport (ever been to a hockey game?). These days, it is rarely about race when it comes to sports. Yes, we can go back decades and find problems, but now at the start of 2016, how often are problems occurring on the field of play because of race?
 Ethically, we must ask an honest and open question (and we do not have a decisive answer): what role does the media play in fanning the flames of controversies that don't exist?
 We believe and we continue to believe that sports have the power to heal and to help. We also believe that athletics are responsible in a very healthy way for bringing us together and not apart. I looked at the clip of the Knicks – Hawks game over and over again; there were players both Black and White on the floor for both teams. The players did not racially divide, they divided along team lines.
 Do we have challenges in this nation? You bet we do. However, we have also made a lot of progress. Every once in a while, the media might just report on the fact that sometimes two players are simply fighting for possession of a damn basketball and leave all of the mock drama, conjecture and innuendo out of it.
For more information on Sports Ethics LLC:
Chuck Gallagher, President and Co-Founder  (828) 244-1400