The announcer initially said that "Wade Phillips has collapsed on the sideline." I was in the process of replenishing the salsa and chips in the kitchen at the time and I ran back to the television saying, "Oh no!"
Given the stresses of coaching, I must admit that I initially thought the worst. I did not see him get hit by one of his own players. "Collapse" was inaccurate; it was more like "leveled." I saw a group of coaches and trainers surround him and several players down on one knee.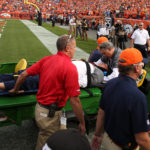 I was thankful to see him move his arms and open his eyes. This morning, as I pushed this creaky, arthritic body of mine through its Monday workout, I thought a great deal about Wade and what he should mean to a lot of us.
Seven Things Wade Phillips Can Teach Us
In giving the topic of Wade Phillips much thought, Chuck Gallagher and I came up with seven things we admire about Mr. Phillips. You may feel free to add a few of your own. For the sake of transparency, what started me to think on this was passing a class of "young guys" being pushed by another young guy, through one of those "Boot Camp-type" classes. Here goes:
Speak well of everyone. I have never heard Wade Phillips disparage an opponent. While he is always oriented to winning, he never mocks anyone – either athletes or coaches – but gives them credit.
Honors father and mother. No, I am going about to give anyone a religious lesson, but he has never stopped praising his father ("Bum" Phillips) nor his mother for the Blessings they bestowed on him. It makes me cringe when I hear "modern families" all on a first-name basis or when I see kids making decisions and running households for their parents. More parents need to teach more kids values and ethics.
Gets up and keeps going. Take a look at Wade's resume. He has been hired and fired and fired and re-hired. He never gave up and he did not lose belief in himself. He coached Denver to the Super Bowl last year (and yes, I know he was the Defensive Coordinator).
Age is a number. Wade Phillips is edging 70. So I was thinking about this as I passed the "Boot Camp" this morning. As a society, we are quick to cast off anyone older. In fact, in the world of anything sports related, entire programs/clubs/equipment/trainers and training regimens seem to want to "kill off" anyone more than 55 years of age. Wade did not get that memo.
Sense of humor. Wade is an affable man with a great sense of humor. From his hospital bed, he tweeted: "I get the big hit award for the week!" We have become so serious about anything sports-related these days that really, it has become absurd. Little League coaches are throwing punches at each other; parents are wailing on Pee Wee Football officials; and virtually every "presser" is a monument to stone-faced reactions. While sports is a serious business, there are numerous things we are all facing that are infinitely more serious.
Respect. Wade Phillips is highly respected. Why? Because he is respectful.
Authenticity. Wade is not a shrine to supplements and crunches. He has lines, wrinkles, and a bit of heft. He is not out of the Actor's Studio or Hollywood, but a real person. He is ethical and does the right thing without filtering everything through a politically correct translation machine. He is an authentic person.
For more information:
Sports Ethics LLC
www.sportsethics.com
Chuck Gallagher, Co-Founder and President  (828) 244-1400