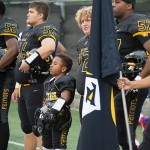 You know those inspirational posters we are always seeing on the social media? I have little use for most of them. Many of them are made-up, trite and soulless; sort of like an air sandwich if such a thing exists. That's OK, I suppose. Lots of times I think the people posting them are posting them more for themselves than for the rest of us. That's OK, too. We've all got pain.
We see a lot of these posters around holiday time. Why? Despite all of the commercials with happy couples, the diamonds the big cars with bows, and the joyous television programming on the Hallmark channel, there's a lot of miserable people feeling sorry for themselves.
For me, whenever I need inspiration, I turn to sports. I especially like stories about athletes who are less than perfect. Athletes who overcome the hands they are dealt and who just shut up and make the best of it.
Meet Adam Reed
American Heritage High School in Plantation, Florida, is a 5A school. Adam Reed is a running back for the school. Fifth string. He is 4-foot-5 and weighs 95 pounds. He was slow in growing as a baby and despite growth hormone therapy, his body did not respond.
When he plays he routinely has to go up against defensive linemen who can weigh 250 pounds or more. He has been quoted as saying: "I'm not short. I'm small. I'm undersized."
What he has on his side is his drive, work ethic and the fact that no one much feels sorry for him; not his mom, not his coach Mike Rumph and not his teammates. He wants no special accommodations and he wants no fanfare. In a time when kids get participation trophies and over-protection he just wants to compete.
Adam has gotten into varsity games and he has survived heavy hits. When you ask him if he is worried about getting hurt, he has said that he has plenty of muscle to protect him. I would like to explore that attitude a little more because even if you have a problem with sports, his comment talks to a bigger concept: Life.
Several years ago I was going through some tough times and I remember having a conversation with a friend who had known me by that time, over several years. He listened to my problems, looked at me and said: "You already have all of the tools you need." He was right. My problems didn't go away overnight, but I had all of the tools to face the situation.
Adam hit on something really big
We may not have a lot of muscle to protect us, but we do have much more strength, or courage or faith than we realize. We have many tools at our disposal if we just tap into them. Without verbalizing it, it may be Adam Reed's message to us all.
I realize that all of those inspirational sayings scattered across the internet may occasionally help people, but most are external because they really don't apply. Sports stories are inspiring to me because they represent real people going through real challenges.
Ultimately, what I like most about Adam Reed is that he has wide-open eyes. His story will not be a Disney story. He will not get to play for the national championship and he will not score the winning touchdown. He has accepted that about himself, just as we must all accept our shortcomings. However, as long as we strive to be as good, and as ethical and as committed as we can be, we will have succeeded.
Adam's ultimate goal is to be a coach and to work with kids. His current coach would one day like Adam to join him. What a fascinating journey that would be, and how very inspiring!
For more information on Sports Ethics, LLC:
Chuck Gallagher, President and Co-Founder (828) 244-1400