Maybe you've recently read about this incident following a soccer football match between a French team, Saint Germaine and the English club, Chelsea. There's a new twist to this racist story.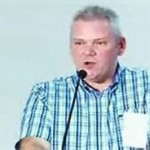 In the Metro train station, a black man was physically stopped from getting on the Paris Metro by fans of the Chelsea football club. He was physically shoved not once, but several times. As the man was pushed off the train, the crowd sang a racist song reminiscent more of the Deep South in 1950 than Europe in 2015.
If this incident was not ugly enough, a strange detail has just come to the surface. In an online article for CNN (February 23, 2015) entitled: "Human rights official identified as one of fans involved in Chelsea race storm," we are introduced to a supposed champion of human rights by the name of Richard Barklie.
Barklie is described as a "human rights official," and he was on the Metro car riding along with the racists. The article states:
"Richard Barklie was one of three men identified by the UK's Metropolitan Police in a video …following the English club's UEFA Champions League game against Paris last Tuesday."
Barklie witnessed the other Chelsea fans yelling and shoving: "We're racist, we're racist and that's the way we like it."
That's not who I am?
Barklie is an ex-police officer and a director at the World Human Rights Forum, whatever that may be. He has acknowledged being on the train but refutes chanting racist remarks or physically blocking the man. Barklie says he hates racism and that he would never partake in such an act. The observation cameras in the station captured Barklie's image as being one of the men at the door of the train!
"Barklie offered his 'sincerest apologies for the trauma and stress suffered by Mr. Souleymane' [the passenger who was shoved off] while saying he 'has an account to give to police which will explain the context and circumstances' of the incident."
OK, Mr. Barklie, I am all ears. What do you have to say?
The Chelsea football club issued copious apologies and strongly condemned the racist event. They have communicated their shame and disgust at such behavior. The team has seemingly identified five other "fans" from the video and those fans have been banned. We don't know for how long the ban is for; a lifetime? Season? One damn game?
I must credit other Chelsea supporters with stepping up for what was right; there was seemingly a display of anti-racist banners at the next match and the mistreated fan was invited into what is comparable to the owner's box courtesy of the team.
In any event…
The behavior of English soccer hoodlums is renowned. Home or away, their conduct is unbearable and coarse. I must be quick to point out the usual; it is a small percentage of the fans and by no means is typical. Yet I cannot help but wonder how the level of acceptance toward that percentage grew so steadily and for so long a time that such behavior has been allowed to breed from generation to generation.
Mr. Barklie offers us valued insights.
Leaving the scene
In our own everyday lives, what do we witness and what do we tolerate? I speak on ethics to throughout North America. I have learned to listen and observe. Sometimes I hear bigotry wrapped in very politically correct language; sometimes I hear prejudice in more blatant forms.
Suppose Barklie were not a football fan on a train, but the director of marketing for an American manufacturer of exercise equipment where a supplier issued forth a racist or anti-Semitic remark – and he did nothing? Suppose Barklie was in HR for an NFL football team and was present at an industry get-together where the wine was pouring freely and someone issued a homophobic or bullying remark – and he stood there and laughed like a hyena?
I understand the fears involved. I also understand what the result is when "good" people do nothing. If it is true that Barklie is involved in human rights, could he not have reported the event to someone? More than that, should he have? I think so.
However, I then ask myself some other ethical "what if" type questions. What if the train car, the meeting with the supplier or the party was filled with "decent people," and there were only two or three racist bullies? Could those in the meeting or the party not acted or said something?
Let's go back to the original incident:
I would have to consider the train was not the last train leaving the station that day. What if Barklie had gotten himself off the train, walked up to the man and said:
"I express my deep regret and apologize for those freakin' morons. I don't want to be seen with those losers. Let me stand with you until the next train."
Instead, "the activist" rode on, waiting for the police to recognize his smiling face.